Mario Kart 8 Is One Of Amazon's Most Wished For Gaming Products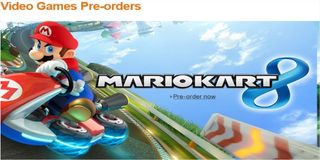 Nintendo wasn't kidding about ramping up the prestige of their product brands for this year. When they mentioned about getting serious about marketing their products, they were very serious.
Mario Kart 8 is doing all sorts of moving and shaking in not only the Best Sellers list on Amazon, but also as one of the most wished for items on the e-tailer's marketplace.
The game has already spent 50 days in Amazon's top 100 list for the best selling video game items, and it currently sits in 16th place as of the writing of this article. What's more is that the image below shows that Nintendo's exclusive racer is also sharing the limelight as one of the most wished-for and anticipated games of the year.
Now would you look at that? It's currently in sixth place, resting just behind the Titanfall bundle... showing that people are only interested in the Xbox One if they can get something to go along with it for free.
And of course, at the top of the spot for the most wished-for item on Amazon's list is Amazon's own Fire TV set top box.
Nevertheless, Mario Kart 8's slow move up the ladder is showing that there is some interest in the property; people are getting excited for this latest entry in the Mario Kart franchise. By proxy, there's also some form of interest that could be building in the hearts of consumers for the Wii U... or at least, I would imagine that's what Nintendo is hoping for.
Just yesterday the Big 'N's UK brand manager made it known that Nintendo was back in the console war, and that they would be giving full-time attention to marketing their products throughout this year.
This is also coupled with the Big 'N's new initiative in the QOL or quality of life sector, to which Forbes' Paul Tassi does a brief report on how Nintendo's Satoru Iwata is seeking to bring Nintendo into a new era of "fun".
I would like to hope that they first focus on getting the Wii U up to 7 million units into the homes of consumers and at least a million copies of Mario Kart 8 moved within its first quarter on the market before diddle-daddling with the QOL stuff. Old people and casual gamers aren't going anywhere, but hardcore gamers are antsy and they will easily put their money elsewhere if a good product isn't delivered through the hype machine ASAP.
On the upside, Mario Kart 8's features practically sell themselves, and all Nintendo needs to do is ensure that everyone out there knows it. Based on the Amazon charts, it at least looks like the Captains of Nostalgia are moving in the right direction. All they'll need to do from there on is secure some strong third-party support and round out 2014 with a blockbuster holiday line-up.
You can pre-order Mario Kart 8 right now from Amazon. The Wii U bundles featuring the game should be made available across multiple e-tailers soon.
Your Daily Blend of Entertainment News
Staff Writer at CinemaBlend.