Metal Slug X Deploys Today On iOS And Android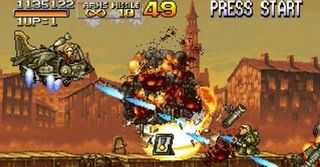 Mount up, soldier, because SNK Playmore is taking everyone back to the battlefield with today's release of Metal Slug X for both iOS and Android. If your daily bullet output has been lagging as of late, this is one game that will help you make up the difference and then some.
SNK Playmore is batting 1,000 with the Metal Slug series so far, having released the original Metal Slug to mobile devices in late 2012 and Metal Slug 2 to the same platforms earlier this year. Now it's time for the third game in the classic NeoGeo 2D run-and-gun series to take center stage, and it looks like all of the additional trimmings SNK has pumped into the previous two mobile entries have been retained in this latest offering.
From crazy weapons to badass tanks, jets and mechs, the Metal Slug series provides all of the action you would expect from a shoot-em-up game like Contra, but with a story, characters and aesthetics that keep tongue firmly planted in cheek.
In Metal Slug X for mobile, SNK Playmore promises an "arcade-perfect" port of the original game in Arcade Mode, as well as a Mission Mode that lets you tackle any mission you've already cleared in any order, or as many times, as you want.
An autofire option has also been added to the player's arsenal, allowing them to keep the bullets flowing by simply holding down the fire button rather than tapping it over and over. For those who prefer to see the game's full screen, there's even a Window Mode that shrinks down the image slightly and provides some black space at the edge of the screen for buttons.
For those who like to shoot up baddies with a buddy in tow, both the iOS and Android versions of Metal Slug X will feature co-op via Bluetooth, and there's even a collection of leaderboards available so players can compare their best scores against all other players.
Metal Slub X released today for $3.99. You can grab it over on iTunes (opens in new tab) for iOS or download it from Google Play for Android devices.
Staff Writer for CinemaBlend.
Your Daily Blend of Entertainment News
Thank you for signing up to CinemaBlend. You will receive a verification email shortly.
There was a problem. Please refresh the page and try again.