Microsoft Won't Resurrect Silent Hills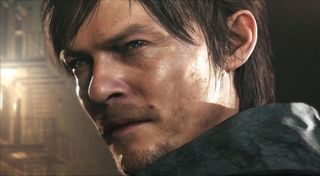 Rumors spread wild and fast that Microsoft had picked up the license to publisher Silent Hills, the collaborative project between Hideo Kojima, Guillermo Del Toro and Norman Reedus. Xbox division head honcho Phil Spencer has shot down the claims that Microsoft bought Silent Hills from Konami.
Over on Twitter, Spencer responded to someone asking him about the veracity of the rumor. Spencer was quick to reply, stating...
This sent a wave of disappointment through the Twitter-verse as gamers thanked Spencer for setting the record straight about Silent Hills not being an Xbox One exclusive.
The rumor seems to have originated from this Rooster Teeth video, which cited an anonymous source. The speculation then spread through Reddit, Twitter and eventually several gaming sites.
Some gamers still believe that Phil Spencer is just playing coy and that Microsoft could actually reveal something big at this year's E3 in terms of securing Silent Hills as an Xbox One exclusive. Of course, some rumors have turned out to be true after the company originally denied the claims. Remember the source code for GTA V revealing that PS4 version was in the works and that the PC was the lead platform? Remember how Rockstar adamantly denied those claims and it turned out that the source code didn't lie? That's not to say that the Rooster Teeth rumor could check out but it is to say that in the past sometimes these rumors have checked out.
As for why Silent Hills would be up for grabs all falls back to a massive spat between Hideo Kojima and Konami. The two are parting ways after his contractual obligations are fulfilled with Metal Gear Solid V: The Phantom Pain, which is due for release later this year. Kojima and his Kojima Productions crew were supposed to work hand in hand with Guillermo Del Toro to bring Silent Hills to life with Norman Reedus in the starring role, but it looks like that won't be happening. A petition by gamers to bring the game to life doesn't seem to have had any effect.
Gamers were desperately hoping that Microsoft could step in to save the project because the brief glimpse of what Kojima and crew wanted to do with the game based on the PT Demo showed a lot of promise. I'm not heavy into that genre but I would be lying if I said that I wouldn't consider putting money aside for a horror-survival game running on the Fox Engine and starring Norman Reedus.
Staff Writer at CinemaBlend.
Your Daily Blend of Entertainment News
Thank you for signing up to CinemaBlend. You will receive a verification email shortly.
There was a problem. Please refresh the page and try again.