PS4 Loaded With Silent Hills Demo Is Being Auctioned On Ebay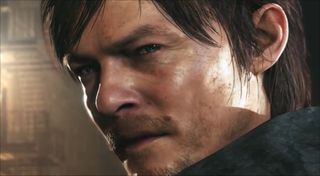 New reports are filing in that PS4 units loaded with Silent Hills are being sold on eBay for up to $1,000. Why? Because Konami is pulling the Silent Hills P.T. demo from the digital marketplace and the game that the demo was attached to, which was in development by Hideo Kojima in collaboration with director Guillermo Del Toro and starring Norman Reedus, has been canned.
VG 24/7 is reporting that several eBay sellers have PlayStation 4 units up for auction on the service, containing a fully loaded hard drive of top tier games, one of which is obviously the P.T. Demo.
Both units are being sold from out of the United Kingdom, so if shipping costs are a concern for you then you're not going to want to waste a dime, dollar or pound on either unit.
For the first unit, being sold by someone with a 27 yellow star rank, the PS4 comes with P.T. already loaded up along with inFamous Second Son, GTA V, Call of Duty: Advanced Warfare, Sleeping Dogs, Drive Club, Fifa 15, Assassin's Creed Black Flag and Watch Dogs. It's like the ultimate AAA hardcore gamer's fantasy library for the PS4. The unit has been in use for six months. You can either buy it now for £1,000.00 from eBay user will90075 (opens in new tab) or make an offer.
The second unit available from eBay user geb0907 (opens in new tab) also carries a £1,000.00 price tag and has the PT demo already installed and comes with a single PlayStation 4 controller. By comparison, you're definitely getting a better deal with the first listing.
It may seem a little ridiculous that it's come to this, but all of the mysterious fallout between Kojima and Konami has led a lot of gamers to question what's really going on. Previously it was stated that Kojima would stay on with Konami up until Metal Gear Solid 5: The Phantom Pain launched. However, the collaboration between Kojima and Konami regarding the highly anticipated Silent Hills has come to a close before things really got off the ground.
While we don't really know exactly how far along into development Silent Hills was, we do know that Hollywood director Guillermo Del Toro was on board and Norman Reedus from The Walking Dead was also set to star in the role. Plain and simple, there was a lot of excitement generated around the project for the simple fact that right now Reedus is red hot from his role on The Walking Dead and Kojima has always managed to captivate audiences with his Metal Gear games. Is it possible we could see the trio take to Kickstarter to fund the game? It's highly unlikely given the costs to produce something as large scale as Silent Hills for home consoles and PC, but maybe we shouldn't rule it out entirely given that there are already petitions circulating to get people to beg Konami to keep supporting the game, as reported by WCCF Tech.
For now, gamers who have yet to download the P.T. demo should do so before time runs out. For anyone who is unlucky enough to have missed out on the demo they'll have to settle for buying pre-loaded PS4's off auction sites like eBay.
Your Daily Blend of Entertainment News
Staff Writer at CinemaBlend.
Your Daily Blend of Entertainment News
Thank you for signing up to CinemaBlend. You will receive a verification email shortly.
There was a problem. Please refresh the page and try again.