Metal Gear Solid 5's Premium Package Includes A Bionic Arm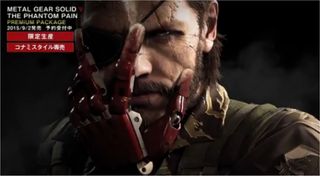 Konami has a very special premium package for those of you who decide to pick up the limited collector's edition version of Metal Gear Solid V: The Phantom Pain: a real-life replica of Snake's bionic arm. There's a neat little promo video that the Japanese branch of Konami let loose on YouTube. Check it out below:
The minute-long trailer doesn't spend a lot of time on anything other than the details of the replica. It's 50cm long and carries a weight of 850g.
It's one of those really rare collector's items that comes bundled with the Japanese edition of Metal Gear Solid V: The Phantom Pain. A smaller version is available in the North American collector's edition. For only $99 you get a steel book, a map, special in-game content (such as the customizable Snake head emblem), golden livery guns, and a special limited-edition DLC costume, along with the red replica bionic arm.
I honestly have to say, that's a really good deal for only $99. Most limited collector's editions with that amount of content retail for around $129.99 to $149.99. It's pretty cool of Konami to let it go for about $30 cheaper than the average collector's edition, especially those from the Call of Duty games over the past couple of years.
Of course, the $99 price tag managed to attract an ample amount of buyers. Gaming Bolt is reporting that Amazon is already sold out of the limited edition bundles for Metal Gear Solid V: The Phantom Pain.
The popularity of the arm being included in the limited edition for the U.S. release of The Phantom Pain had one Amazon user named N. Watkins (opens in new tab) asking...
This spawned 16 different answers, with the most up-voted answer of the thread being from Umar A., who promptly replied with...
The conversation actually starts to unfold over how the U.S., rendition of the replica prosthetic is only half the size of the Japanese edition, which is a full 1:1 scale replica but goes for around $450.
A certain Rami Bazzi adequately hops on to give Watkins a clear cut answer but with a sprinkle of hope and dash of inspiration:
Given that there are real-life Iron Man modifications for the repulsor ray and real-life, working laser rifles based on Borderlands 2, I honestly wouldn't doubt if someone managed to transform the 1:1 bionic arm into a working prosthetic.
In the meantime, the only thing you can do is appreciate the bionic arm in the trailers and screenshots until September 1st, 2015 rolls around, and Metal Gear Solid V: The Phantom Pain launches for Xbox, PlayStation, and Steam.
Staff Writer at CinemaBlend.
Your Daily Blend of Entertainment News
Thank you for signing up to CinemaBlend. You will receive a verification email shortly.
There was a problem. Please refresh the page and try again.