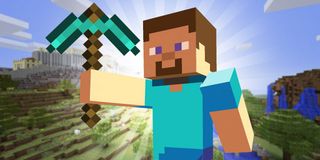 Minecraft's PS4 version has been hit by a last-minute delay. Developer 4J Studios revealed this week that the long-awaited port hit a snag in its certification process.
Any PS4 release has to be tested by Sony first. 4J Studios said over Twitter that they discovered a few bugs during this last sweep:
This setback means that the chances of Minecraft arriving on PS4 this month are practically zero. Sony's certification process can take one or two weeks. 4J Studios sent the game off about 8 days before Sony got it back to them. Even if 4J removed all the bugs and resubmitted Minecraft again on the same day (which they probably didn't), they'd be hard-pressed to get the game certified by the end of August. It's even more unlikely that they'd have the game ready by the 26th, the day of the last PlayStation Store update this month.
The fact that Minecraft's nearly ready to be certified by Sony is encouraging, though. It means that the game's all but certain to arrive in September.
4J Studios has yet to submit the Xbox One or PS Vita versions for certification. They said earlier in the month that they're still fixing bugs on both platforms. Microsoft takes about as long to test games as Sony so the Xbox One version, like the Vita and PS4 versions, probably won't be out until September at the earliest.
The PS4 and Xbox One versions of Minecraft feature greater draw distances and larger worlds than the last-gen editions. 4J said in the past that players will be able to create worlds up to 36 times the size of the PS3 and 360 worlds. The new-gen Minecraft can also import saves from older consoles along with certain DLC packs.
Minecraft on PS Vita doesn't have any of the enhancements of its PS4 and Xbox One counterparts. Instead, it's closely based on the PS3 version. This comes with certain advantages. You can transfer saves back and forth between the PS3 and PS Vita versions. Also, buying the game on one platform lets you get the other for free.
Minecraft PS3 and Xbox 360 owners won't get the PS4 or Xbox One version for free. Instead, you'll be able to get a discount for upgrading from the PS3 to PS4 or Xbox 360 to Xbox One. In both cases, you'll be able to purchase the game for $5 instead of the usual $20. This discount will last about a year after Minecraft launches on PS4 and Xbox One.
Your Daily Blend of Entertainment News
Staff Writer at CinemaBlend.