Minecraft Xbox 360 Halo DLC Screenshots Are A Trip Through History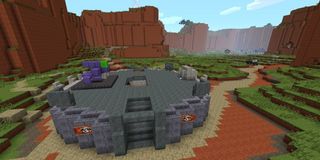 A new batch of screenshots for Minecraft Xbox 360 Edition's Halo Mash-Up Pack were released this weekend on Halo Waypoint. The images give us a look at several pre-made locations included in the DLC pack.
The custom world included with the Halo Mash-Up Pack should look very familiar to long-time fans of the series. The developers have recreated many locations from classic Halo multiplayer maps. Blood Gulch is here, along with Sandtrap and Valhalla. It's an overdose of nostalgia. Here's a side-by-side comparison of the Halo: Reach incarnation of Blood Gulch along with its Minecraft remake:
The Mash-Up Pack gives players access to all the new textures seen in this shot so they can make their own battlefields.
Previous screenshots from the Minecraft Halo DLC showed that notable characters from the series are included as well. Master Chief and 343 Guilty Spark are both included. The new Halo Waypoint blog post today says that there will be 40 characters in the Mash-Up Pack in total. The other characters include the Flood, Prometheans and the Covenant.
Rounding out the Halo Mash-Up Pack are several smaller pieces of content. Players can remake the game's UI and menus with a Halo theme. The characters can be equipped with new items like the Needler. Several music tracks from the soundtrack will be unlocked by the DLC as well to complete the experience.
Developer 4J Studios hasn't announced the price for the Halo DLC. We can guess that it's $3.99, though. That's the price of the Skyrim and Mass Effect Mash-Up Packs previously released on Xbox 360.
The release date's also a mystery for now. 4J's sure been releasing a lot of screenshots, though, so it must be pretty far along. I wouldn't be surprised if it's only weeks away.
Minecraft's Xbox 360 version received Title Update 16 earlier this week. TU16 introduced a wide range of fixes for the game. For example, players will no longer disappear at random.
Minecraft Xbox 360 owners looking to upgrade to the Xbox One version got some other good news earlier in the week. It seems they'll be able to purchase the game on Xbox One at a steep discount later this summer. Saves and certain DLC packs can be transferred from Xbox 360 to Xbox One.
Image 1 of 10