Monochroma Hits Kickstarter Goal Coming To PC, Wii U, PS4, Xbox One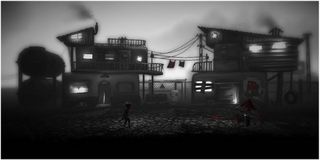 Gamers are finally going to start feeling the effects of the Kickstarter movement on more than just their PCs and Macs. Some of the more innovative and high-quality titles that have been crowd-funded are now scheduled to arrive on home consoles as well, including Nowhere Studios' highly anticipated industrial-dystopian platformer, Monochroma.
They still have 28 hours to go on their official Kickstarter page as of the writing of this article, with a few more stretch goals to cover within that time frame. It's unlikely that any of the stretch goals will be met, but gamers should just be happy that the game has officially be en Kickstarted and another high-quality game that branches outside the norm will be arriving for both PC and home consoles.
I know a lot of people ragged on Sony for showing off 400 Days of Indies during their GamesCom 2013 press conference for the PlayStation 4, but it's important to note that every indie title Sony is hunting down either as a multiplatform or exclusive release on the PlayStation 4 is a game that aims to bring something compelling and gripping to the table. These aren't just cash-in games made to capitalize on the latest Hollywood trend or another blockbuster starring a celebrity who couldn't give two coke-sniffs about churning out a decent vocal performance for generic AAA title #714.
Sony has aimed to bring the best and brightest to their console, with a wide smorgasbord of games scheduled to arrive for their next-gen outing, and one of those unique games happens to be Monochroma.
This game is a side-scrolling platformer that hones in on the sort of deliberately paced puzzle genre similar to the likes of Playdead Studios' Limbo. There's a dark atmosphere that surrounds the journey of two brothers, as players will strive to protect their little brother in a dangerous and mysterious industrially dystopian society.
The game uses the stark contrast of monochrome hues against striking uses of brief splashes of color to set the tone and direction of the game, making for an experience that is just as thought-provoking as it is visually poetic.
Now I doubt we'll have a lot of new-wave French existentialism to trod through in Monochroma like in Orthogonal Games' The Novelist, but it does seem to take a step further into the social commentary agenda more than your typical platformers like Crash Bandicoot, Fez or the Super Mario Bros.
Nevertheless, Monochroma, while it may have finished its Kickstarter, still isn't out of the woods just yet. This Turkish made platformer still needs your help to get the attention and recognition from the higher-ups over at Valve. Yes, I'm talking about the much praised, much maligned and always controversial Steam Greenlight.
The team needs a few upvotes and some favorites to make it onto the Steam store. The game is scheduled to launch later this year, most definitely for the PC, Wii U and PlayStation 4. The Xbox One version may or may not arrive with the rest, but it's at least on the radar for the developers.
Anyway, you can show your support for Monochroma over on the official Steam Greenlight page. If you need a taste of what Nowhere Studios is offering for your interactive entertainment taste-buds, feel free to whet your appetite on the teaser trailer below.
Staff Writer at CinemaBlend.
Your Daily Blend of Entertainment News
Thank you for signing up to CinemaBlend. You will receive a verification email shortly.
There was a problem. Please refresh the page and try again.