Monster Hunter 4 Ultimate Trailer Takes The Fight To The Desert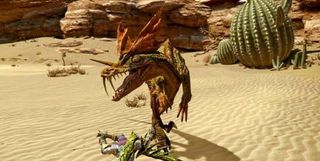 The undisputed granddaddy of all "hunting" games is primed to invade Japan at some point in the future (and eventually the US, Europe and other territories after that) and it looks like those who plan to play Monster Hunter 4G will be enjoying plenty of fun in the sun as the game's newest trailer shows off what appears to be a desert-based starting area.
Each of the past couple of Monster Hunter games have plopped players down in a village and initial starting area themed off of one particular climate. Monster Hunter 2 featured an arctic mountain setting with the most recent Monster Hunter 3 Ultimate taking place on a tropical island. As you'll see from the following trailer, you'll end up adventuring in pretty much every climate imaginable, but it looks like the starting area, at least, will be full of sand, sand and more sand.
This is particularly upsetting for me, as I live in Arizona, surrounded by the desert at all time. Okay, so, I'm not actually bummed out about the MH4G desert, but it is a bit more difficult to escape into a fantasy world when it so closely resembles your own, especially when you're not too fond of the desert to begin with. And yea, I'm saying that Arizona is full of giant winged monsters and lizards that can surf through the sand. We're hardcore in the Wild West.
So, how's about we take a look at that trailer real quick, yeah>
Yep, that looks like a lot of sand to run through. Thankfully, there looks to be plenty of water, forests and even some snow to help level it all out. There were some critters I've never seen before running around, too, and some nifty team-up moves that should make playing with friends even more exciting.
Speaking of which, how excited is everybody for online multiplayer? It sounds like Capcom has finally caught on to the fact that Japan offers a pretty unique gaming environment and, in quite a few places around the world, it can be difficult to meet up with your fellow gamers and get in some team-based slaying. This trailer is also releasing at an especially odd time for me, as I literally just started playing MH3U last night. I figure Monster Hunter 4 Ultimate isn't due out here until next year, so I've got plenty of time to dive into this latest offering before the sun-scorched environments of MH4 are ready for me to explore. It'll also be good timing for me to carry my character over into the new game, which is another feature that'll be nice to take advantage of on the 3DS.
Staff Writer for CinemaBlend.
Your Daily Blend of Entertainment News
Thank you for signing up to CinemaBlend. You will receive a verification email shortly.
There was a problem. Please refresh the page and try again.