Mortal Kombat Announced For PS Vita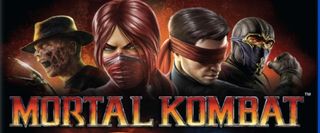 We know that Capcom is supporting Sony's newest portable gaming device but did you know that NetherRealm Studios was also supporting the PS Vita with a re-release of last year's smash hit, Mortal Kombat on the PSV? Well, if you didn't know you know now.
Ed Boon, Creative Director, NetherRealm Studios commented in the press release, saying...
The game will feature the Sony exclusive Kratos from the God of War series, enabling gamers to either deal out damage as the legendary warrior or give him the beating of his life with any of the iconic kombatants from the illustrious series.
The PSV version of the game will also come packed with all the DLC released throughout the year, including Rain, Skarlet, Freddy Krueger and Kenshi. And this time you don't have to worry about Kenshi not arriving on time.
The PSV version of the game will sport the same kind of intense, bone-shattering gameplay as the home consoles, including the tag-team modes, the Challenge Tower, arcade story mode and even all those awesome X-Ray moves that practically breaks your opponent into pieces.
You can look for Mortal Kombat to arrive for the PS Vita sometime this spring. For more info feel free to visit the Official Website.
Staff Writer at CinemaBlend.
Your Daily Blend of Entertainment News
Thank you for signing up to CinemaBlend. You will receive a verification email shortly.
There was a problem. Please refresh the page and try again.