Mortal Kombat X Tanya Trailer Reveals Her Ridiculous Fatality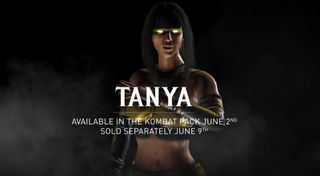 Who would have thought that Tanya could be one of the most badass characters in Mortal Kombat X? Well, I never would have thought it but the new trailer to make it known that she's available to those who purchased the Kombat Pack showcase just how deadly Tanya is in Mortal Kombat X.
Game Informer covered the new DLC briefly explaining that gamers who pre-purchased the Mortal Kombat X Kombat Pack DLC can start playing as Tanya right now, a character who joins Jason Voorhees and soon the Predator.
The Kombat Pack contains klassic costumes for several of the characters as well, letting players relive some of the good times with the iconic faces on the roster.
The DLC kind of gets confusing because you can get Tanya and the costumes separately from each other. Each piece of DLC will carry a separate price tag that you may or may not find appetizing, or you can get it all together in the Kombat Pack for $29.99. Individually, Tanya will run you $4.99 and the costume pack will cost you $7.99. Of course, for those of you who decide not to buy into the season pass-esque DLC pack you'll have to wait until June 9th to purchase and play as Tanya.
The DLC scheme is certainly not one of the more appealing parts of Mortal Kombat X.
Nevertheless, I must say that I was proven quite wrong about Tanya's usefulness in the Mortal Kombat mythos. The character made it on Gaming Blend's top 10 list of characters you should never play as, but that's not entirely true because the trailer above shows exactly why she's worth playing.
NetherRealm Studios have gone over and beyond to fix up Tanya to not only be a slick, smooth, fast character with some awesome combos and hard-hitting aerials, but she also has a ridiculously violent and gory finisher, even more so than the very tamed Fatalities from Jason Voorhees.
We see that Tanya has some mid-ranged attacks to bridge the distanced between her and her opponent as well as plenty of combo starters that adept fighting fans will be able to use to throw their opponent off their guard.
Given that Tanya is DLC I do wonder how well she will adapt to the FGC tournament scene? They're usually fairly leery about allowing DLC into the more serious tournaments. EVO in particular have some strict rules about which characters are allowed to fight due to balance issues. Some DLC characters in some games like Injustice: Gods Among Us suffered from being too over-powered or having cheap, exploitable attacks.
I'm sure as we see more and more gameplay videos of Tanya we'll see whether or not she'll make the cut at this year's EVO, which is arguably the biggest fighting game tournament of the year and it takes place in July following all the E3 festivities.
For those who purchased the Kombat Pack for Mortal Kombat X, you can play as Tanya right now. For those who would rather purchase her separately, you'll have to wait until next week on June 9th.
Your Daily Blend of Entertainment News
Staff Writer at CinemaBlend.