Mortal Kombat X Jason DLC Gets Release Date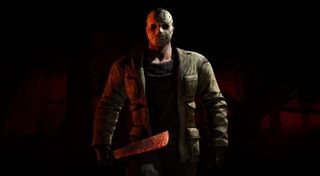 After everyone was begging for Jason Voorhees in Mortal Kombat 9 and after he was announced as a playable character for Mortal Kombat X (albeit, as DLC) NetherRealm Studios has announced that Jason will arrive for those who purchased the DLC pack on May 5th.
IGN is reporting that the DLC will be available first to those who purchased the $30 Kombat Pack and that a week later everyone else will be able to get their hands on the DLC.
The really big news about the Mortal Kombat X DLC campaign is that gamers will be able to give the DLC a test run before they actually have to commit to a purchase. Some gamers have seen this method as kind of slimy because the natural question becomes "If it's already completed and in the game and I can play-test the DLC why isn't it just included in the base game?" That's a good question that doesn't have an answer outside of the fact that there's money to be made on DLC and to increase the overall bottom line.
Jason is just the first of a total of four DLC packs due out for Mortal Kombat X. He was a highly requested character in Mortal Kombat 9 because at the time NetherRealm had included Freddy Krueger from the popular horror series A Nightmare On Elm Street. The dream match was always about Freddy vs Jason. Well, now Jason has been included in the game but there's no Freddy. It's like one or the other.
However, one of the other highly requested characters for Mortal Kombat was the Predator from the popular but oftentimes mishandled movie series. And yes, NetherRealm did manage to add the Predator to the mix, giving gamers and fans the much-requested character the DLC treatment. The Predator is available in the $30 Kombat Pack, or – very much like Jason Voorhees – it's possible to purchase him separately outside of the pack once he becomes available to the general public.
To date, I haven't actually seen any in-game footage of Jason at play. It's impossible to tell whether or not he's worth the price of entry. I'm sure a lot of gamers will simply fork over the cash because it's Jason freaking Voorhees from the Friday The 13th series – an indomitable villain and a formidable presence, no doubt – but at the end of the day Mortal Kombat X is still a fighting game and Jason needs to be able to hold his own to justify the price tag.
Right now I have no idea what Jason's play-style will be like or how he'll be handled in the long-running Mortal Kombat series. It's likely that he'll be slow and lumbering with a lot of power moves and CQC zoning to keep people from getting too close to him. Of course, we won't know for sure what he's like until the videos start rolling out and gamers eventually get their hands on him.
You can look for Jason to launch digitally for the home consoles and PC come May 5th for those who purchased the Kombat Pack, and he'll be available a week later as an individual piece of DLC for everyone else.
Your Daily Blend of Entertainment News
Staff Writer at CinemaBlend.
Your Daily Blend of Entertainment News
Thank you for signing up to CinemaBlend. You will receive a verification email shortly.
There was a problem. Please refresh the page and try again.