MotorStorm RC Dated For PS3, PC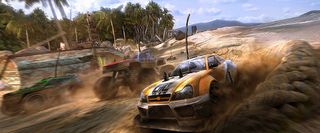 Evolution Studios is just a couple weeks away from releasing MotorStorm RC. This new take on their off-road series will be available digitally for the PS Vita and PS3 on March 6th.
This arcade-style racer puts players behind the wheel of eight different types of remote-control cars. They'll race on 16 tracks set in locales from previous MotorStorm games, such as the ruined city of Apocalypse and the frozen tundra of Arctic Edge. There are five modes to enjoy, such as a drifting competition and time attack.
If you purchase the Vita version of RC, you'll get the PS3 edition for free and vice versa. Your progress, including Trophies and unlocks, will carry over from one platform to the other. Leaderboards are cross-platform as well, so you can continue to compete with friends no matter which version you're playing.
The PS3 edition will feature a few extras, though. It supports 1080p HD visuals and stereoscopic 3D. It's also the better choice for local multiplayer, thanks to four-player split-screen and SimulView same-screen multiplayer.
Staff Writer at CinemaBlend.
Your Daily Blend of Entertainment News
Thank you for signing up to CinemaBlend. You will receive a verification email shortly.
There was a problem. Please refresh the page and try again.