NBA 2K12 Brings Back Classic Rivalries With NBA's Greatest Mode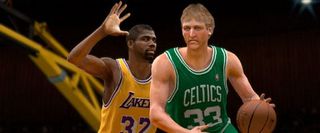 2K Sports is cranking up the nostalgia for NBA 2K12. The "NBA's Greatest Mode" will feature 15 historic NBA teams. Michael Jordan, Larry Bird, Magic Johnson, Kareem Abdul-Jabbar, and Julius "Dr. J" Erving are among the all-time greats whose teams you'll control.
"The NBA 2K franchise has become an essential part of the NBA culture, and our fans can now take control of legendary teams and athletes from the NBA's rich history," said Jason Argent, 2K Sports vice president of marketing. "With 'NBA's Greatest' mode, NBA 2K12 will allow fans to prove once and for all who are the greatest basketball icons of all time."
By successfully completing historic scenarios, you'll unlock these classic teams and athletes for general use within NBA 2K12. You'll be able to match these teams up against any current NBA franchise. Do you think Jordan could whip LeBron's ass, or that Dwight Howard's a better center than Kareem Abdul-Jabbar? Well, this lets you prove it, albeit in a virtual and meaningless context. More fun than arguing about it in a bar, I guess.
Jordan will be the cover athlete for NBA 2K12, the second year in a row he's had the honor. There are two alternate covers for the Xbox 360 and PS3 versions featuring Larry Bird and Magic Johnson. The Bird and Magic covers will only be available in limited quantities, though.
NBA 2K12 will be released on October 4th in North America. Visual Concept is developing the game for the Xbox 360, PS3, PS2, Wii, PSP, and PC.
Your Daily Blend of Entertainment News
Staff Writer at CinemaBlend.