NHL 14 Cover Athlete Is Martin Brodeur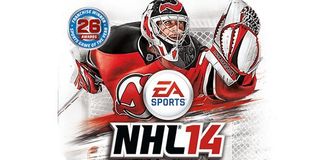 This weekend EA Sports revealed that New Jersey Devils goaltender Martin Brodeur will be appearing on the cover of NHL 14. Brodeur will be the first goalie to grace an NHL cover since Florida Panther John Vanbiesbrouck appeared on NHL 97's box.
Brodeur has spent over 20 years in the league, all with the Devils. He's been selected for the All-Star game for half of those years. He's won the Vezina Trophy four times and the Jennings Trophy five times. He now holds many of the career records for goalies, including most career wins, most playoff shutouts, most regular-season shutouts and most minutes played. It's possible that he won't be in the league much longer so being selected as cover athlete is a (fitting) send-off for him.
To determine this year's cover athlete, EA held a fan vote. This is the second year in the row that they've left the matter up to fans. Over 22 million votes were cast during the event. Brodeur beat out Columbus Blue Jackets' Sergei Bobrovsky, a fellow goalie, for the cover duties.
"The support I've received throughout the cover vote campaign has been incredible," said Brodeur. "My kids pushed me to participate in the campaign, and they are really excited to see their dad on the cover of the game they play all the time. I want to thank all the NHL fans who campaigned and voted for me."
NHL 14 will introduce new collision physics, based on the Player Impact Engine seen in FIFA games. The game will also utilize a new Enforcer Engine for brawls - the closest thing we'll get to a new Fight Night game anytime soon. The True Performance Skating engine from NHL 13 has been enhanced with additional animations as well. Times will be tough for goalies like Brodeur due to a new deking system.
EA will release NHL 14 on PS3 and Xbox 360 on September 10th in North America. The launch for PAL territories will follow on the 13th.
Image 1 of 2
Image 2 of 2