NHL 15 Is Missing Features On PS4 And Xbox One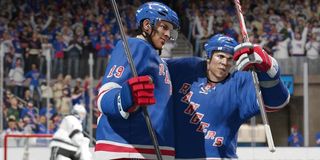 The PS4 and Xbox One versions of NHL 15 won't be the most complete editions of the game. EA Sports has revealed that the game will ship without major features on those two platforms.
The first feature that won't ship with NHL 15 on PS4 and Xbox One is Online Team Play. This mode allows gamers to team up cooperatively online. EA says it won't be ready for new-gen consoles until after launch.
"OTP will be rolled out as part of our NHL 15 content update program," the company said on their official blog. "We're close to having it done, but our priority is to deliver a quality experience that's stable for you, the players, and we still have some testing work to do. We'll have more information for you on the schedule closer to launch. Stay tuned to our channels for the latest updates."
EA Sports Hockey League is also AWOL. In EASHL, players create a custom hockey star and then directly control them in six-on-six hockey games with other players. Over the course of the season, they gain experience and rank up. This mode's been a staple of the NHL series in recent years but won't appear in NHL 15 on PS4 or Xbox One.
"As a franchise, we're 100% committed to the EA SPORTS Hockey League. While we can't deliver EASHL in NHL 15 on the Xbox One and PlayStation 4, we have huge plans for the mode in future iterations of the game."
EA says that they'll be creating an "EASHL committee" of gamers to help design the new-gen return of the feature. That return won't happen until NHL 16 at the earliest, though.
"Decisions like this are never easy, nor do we take them lightly," the company added. "We know that there is a passionate group of fans that loves these modes and is no doubt disappointed with this news; but we also know that this same group of fans expects a high quality gameplay experience above anything else. We're a franchise built on quality, so launching these modes without confidence in their quality wasn't something that we were willing to do."
"We thank you for the passion you have for our game. We looking forward to bringing you a next generation hockey experience this September that will continue to evolve and improve with your feedback post launch."
EASHL and Online Team Play won't skip NHL 15 entirely, though. EA is actually including them in the PS3 and Xbox 360 editions of the game. That's a bit of a switch. Generally the newer hardware gets all the flashy toys. Still, a lot more people own the last-gen consoles right now so the decision makes probably more financial sense for EA.
NHL 15 will launch on September 9th. The PS4 and Xbox One versions will have the following modes at launch: Play Now, Be A Pro, Be A GM, Online Versus, Hockey Ultimate Team and NHL Moments Live. EA says they plan to release free content for the game throughout the year as well.
The Xbox One version, by the way, can be played through new subscription service EA Access. NHL 15 is one of four games that launched with EA Access.
Staff Writer at CinemaBlend.