NHL '94 Was Developed In A Barn By A Man Who Had Never Seen A Hockey Game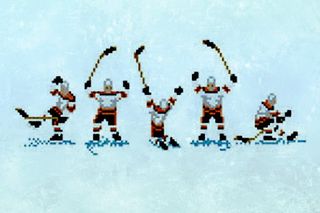 NHL 94 is one of the most beloved titles in video game history, and its influence is still being felt in modern gaming. But the game's backstory might force you to rethink everything you know about video game development. Here's the gist: it was programmed in a barn on the Maine coast by a dude who didn't know anything about hockey.
Mark Lesser didn't plan on becoming a video game developer. After he graduated from MIT with a bachelor's degree in electrical engineering, he went to work as a circuit designer at Rockwell International in Anaheim. This was the early 1970s, so the video game industry was barely breathing.
By the time Mattel knocked on his door with a plan to convert a digital calculator into a handheld video game, Lesser had already been working on military and defense contracts. So, this was "small potatoes." But he took the gig and created the very first digital handheld video game, Mattel Auto Race.
Lesser spent the next few years producing handhelds with flashy names like "Football." Players would control blinking LED lights, sidestepping other LED lights until passing some kind of finish line. Those early projects had more in common with transistor radios than modern video games, but the industry was growing quickly.
In an interview with Bangor Daily News, Lesser described his experience this way:
In 1993, Electronic Arts asked Lesser to work on NHL '94, the third game in EA's NHL Hockey series. So, Lesser left his soldering guns and circuit boards behind and made the transition into console development. The fact that he had "never watched a hockey game" and knew nothing about the sport didn't even phase him.
EA invited him to meet with the staff and check out an Anaheim Mighty Ducks game. Lesser devoured everything he could about hockey and took his newfound knowledge back to his cabin in Maine, a glorified barn with no running water or electricity.
Yeah. I'm not really sure how he did it either. But the work that he did in that cabin changed video games forever. NHL '94 refined puck movement and goalie control. It also added special effects, the shattered glass that happens on an unruly slapshot. And the game allowed players to save statistics throughout the season, which was a major advancement.
NHL '94 was a huge hit, which allowed Lesser to continue working on the NHL series until 1999. Though, he also helped with the Madden NFL and Supercross franchises. He retired in 2000.
If Mark Lesser's story has any kind moral, it would probably be this: fake it until you make it. This isn't something that most high schools or colleges teach, but Lesser made some incredible things long before he knew what he was doing. He didn't let a lack of experience get in the way of an interesting opportunity.
Here's how Lesser describes it:
Check out Mark Lesser's entire interview below:
Your Daily Blend of Entertainment News