Nariko And Sir Daniel Outed Early For PlayStation All-Stars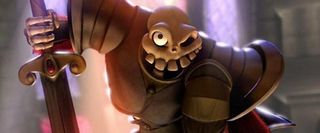 Either SuperBot Entertainment and Gamespot are in cahoots and toying with the gaming masses, or the big GS has managed to really, really mess up a couple of big character reveals for upcoming brawler, PlayStation All-Stars Battle Royale. After unveiling Raiden a bit earlier than expected with a new gameplay video yesterday morning, Gamespot posted yet another video today, this time pulling back the curtain on Nariko and Sir Daniel.
Heavenly Sword's Nariko and Medieval's Sir Daniel were the final two characters remaining on the infamous leaked list of All-Stars combatants from about a months ago so, again, their inclusion in the roster should come as no real shock to those who have been following the game's development. Still, SuperBot was slated to reveal some new characters at this weekend's PAX convention and, at this point, it doesn't look like they'll have any surprises left up their sleeves.
SuperBot responded to the early reveal of Raiden by posting their own "official reveal" on the PlayStation blog yesterday afternoon, stating that it was coming earlier than originally planned. This time, though, there has been no response from SuperBot. Instead, the original Gamespot video showing off Dan and Nariko has been set to "Private" and, we're assuming, will remain that way until SuperBot finally gets to do their presentation sometime this weekend.
But of course this is the internet we're talking about, so you can still find the new video with a simple Youtube search.
Honestly, I was willing to let the Raiden slip-up slide. Mistakes happen all of the time so, even though this particular incident took some wind out of a developer's sails, I figured there was no real harm done. The fact that it happened a second time in as many days, however, is inexcusable. I'm not sure how game director Omar Kendall and his staff at SuperBot plan to proceed with this weekend's "big reveals," but I'm half expecting someone from the Gamespot crew to just run up on stage and punch them all in the junk.
Staff Writer for CinemaBlend.