Naruto Shippuden: Ultimate Ninja Storm 3 Full Burst Release Date Set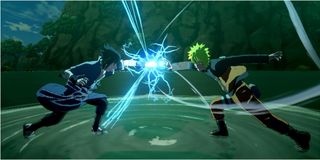 Namco Bandai games has announced the official release date for the extended version of Ultimate Ninja Storm 3 for home consoles, and for the first time ever, for PC. The game will be available beginning October 22nd for the Xbox 360 and PS3, and it will be made available shortly thereafter for PC.
As noted in the press release...
The game also recently received a promotional trailer after being announced as a port to PC, and more specifically, arriving on Valve's digital distribution portal. You can check out the promo video below, showcasing some of the differences between the two versions and how the PC Master Race will be receiving a healthy visual upgrade over the lowly console ports.
For those of you who already owned the original Naruto Shippuden: Ultimate Ninja Storm 3 for the Xbox 360 or PS3, you don't have to worry about buying a whole new game again (ala Capcom style). Instead, Namco Bandai will have a cheaper DLC upgrade option available so you can get ALL the new content, upgrades, characters and previously released DLC at a fraction of the price. I don't know about anyone else, but that's probably the proper way to handle re-releases.
For those of you getting the retail copy of Ultimate Ninja Storm 3 Full Burst, you'll receive some extra goodies in the form of an art book with images and high-quality renders from Studio Pierrot as a pre-order bonus.
The game will feature all the standard-fare fast fighting, super-powered up action and anime-style encounters that fans loved from the TV show and movies, as well as previous games in the long running fighting game franchise.
The only thing that Namco Bandai needs to do now is get to cracking on a PC port of Tekken. Yes, the brand on consoles is renown and popular and established on consoles, but improved graphics, uncapped framerates and mods on PC would take Tekken to potential Skyrim or GTA IV heights when it comes to establishing a long-running modding community. Come on Namco, you've already dipped the toe in the water in Dark Souls and now you're teasing that leg in the water with Naruto... go ahead and step in full force with Tekken and your conversion to a supporter of the PC Master Race will be complete. You can do it!
For more info on Naruto Shippuden: Ultimate Ninja Storm 3 Full Burst, be sure to pay a visit to the game's official website.
Staff Writer at CinemaBlend.
Your Daily Blend of Entertainment News
Thank you for signing up to CinemaBlend. You will receive a verification email shortly.
There was a problem. Please refresh the page and try again.