Netgear's Nighthawk X6 Wireless Gaming Router Sports 3.2Gbps WiFi Speeds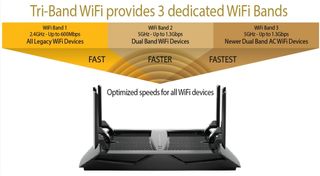 Netgear has announced a brand new, tri-band, wireless home network gaming router called the Nighthawk X6 AC3200. This bad-boy router packs a real wallop in the home networking space, as it allows for up to 3.2 gigabits per second to spread throughout your home at lightning speeds.
Keep in mind that according to the DSL Report, the average home in the United States has a data download rate of 7.4Mbps, which is measured in megabits. So yeah, this router is capable of transferring data thousands of times faster than the average home connection, which means that your connection speed will never be bottle-necked by your router.
The Nighthawk X6 is designed to make for very effective information transfers and data streaming without any hiccups in the service. What's more is that the 3.2Gbps breaks down into three separate bands running at 1300Mbps, 1300Mbps and 600Mbps.
The 600Mbps is clocked at 2.4ghz while the other two are running at 5ghz. This gives home network users enough leeway to game, browse the web and stream content from services like Netflix, all without having to worry about bandwidth being pulled too far in one direction due to the limitations of the router.
As noted in the press release, the person watching Netflix and the person gaming hard on their PS4 (or Xbox One) won't have to worry about losing out to latency because of the router, since both operations can run simultaneously on the two 5ghz bands. That even still leaves room for little Timmy to browse the web, alone, in his room on the 2.4ghz channel.
Sandeep Harpalani, Netgear's director of product marketing for Retail Network Products commented about the new Nighthawk device, saying...
Interestingly enough, the Nighthawk can also be used as a network storage mediator, using the USB 3.0 port to allow users to hook up a storage device and transfer photos, images or videos quickly from one destination to the other, including streaming directly to DLNA supported or AirPlay enabled devices (unfortunately, full DLNA support on the Xbox One isn't quite available just yet).
In addition to this, the router comes with Beamforming+ technology, so it can ready-lock Wi-Fi devices to a band and consistently and accurate transmit data to the device no matter where you are in the house... or apartment. The Beamforming+ tech adjusts for distance so it's aimed at ensuring the connection stays stable no matter what device is being used, or where.
Of course, all this high-end, fancy schmancy technology comes at a price. Even though pre-orders are currently available for the Nighthawk X6 AC3200, you'll be looking to cough up $299.99 for this device. So it's more like, if you have a whole bunch of Wi-Fi gear being used in the home and you need a router to match it, then the Nighthawk X6 might not be a bad way to go about it. Otherwise, well... you know.
You can check out more about the specs and details over on the official Netgear page (opens in new tab).
Staff Writer at CinemaBlend.
Your Daily Blend of Entertainment News
Thank you for signing up to CinemaBlend. You will receive a verification email shortly.
There was a problem. Please refresh the page and try again.