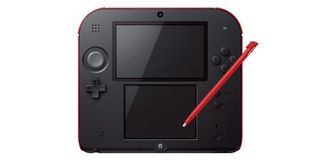 Nintendo believes that there are a lot of DS users out there who never upgraded to the 3DS because of the price or because they don't want 3D games. To cater to this demographic, the company plans to release a bargain priced Nintendo 2DS.
The 2DS can play all games released for the 3DS without the stereoscopic 3D. It's also backwards compatible so you can play all of the normal DS titles. Like the 3DS and DSi, it can't play DS games that require the Game Boy Advance port, though.
The new handheld features the same touch screen and analog stick controls as the 3DS, along with gyro and motion sensors. It also has two exterior and one interior camera to support augmented reality games. The 2DS also retains the online capabilities of the 3DS. 2DS owners can play games online, swap data with nearby players with StreetPass and also receive new content via SpotPass.
The structure of the 2DS might take some getting used to. It doesn't have the same flip-screen design of other DS models. Instead, it's a small tablet that doesn't fold in half. In order to put the device in Sleep Mode, you use a new switch at the bottom right edge.
The 2DS will cost $130, making it $40 cheaper than the 3DS. It'll be available at launch with two paint jobs: black and blue or white and red. Nintendo will sell matching carry cases for each color scheme. The handheld also comes with a 4GB SDHC memory card and an AC adapter that can be used with a 2DS, 3DS or 3DS XL.
Nintendo will release the 2DS on October 12th, the same date that Pokemon X and Y will launch worldwide. X and Y are the first games in the main series to be exclusively available on 3DS. Nintendo wants to make sure that as many gamers as possible can pick up X and Y.
As someone with little interest in 3D gaming but great interest in 3DS exclusives like Ace Attorney 5 and The Legend of Zelda: A Link Between Worlds, the 2DS sounds pretty perfect. I do wonder whether selling, in essence, a 3DS without 3D will undermine the sales of the normal 3DS or the more upscale 3DS XL. Regardless, I could see a lot of gamers picking up the 2DS. It feels like the direct DS upgrade that many of us have been hoping for.
Image 1 of 8
Your Daily Blend of Entertainment News
Staff Writer at CinemaBlend.