Nintendo Download: King Of Fighters '95 Now On The Wii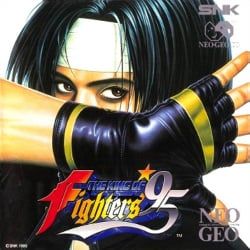 If you're too weak to be the King of Fighters in the present day, you've got another option: travel back in time to the year 1995 to compete. King of Fighters '95 is now available for 900 Wii Points through the Virtual Console service.
Nintendo DSiWare
Ferrari GT: Evolution
Publisher: Gameloft
Players: 1-2
ESRB Rating: E (Everyone)
Price: 800 Nintendo DSi Points
Description: Join the elite circle of Ferrari car owners and take part in exclusive races around the globe. Take on challenges for fame and pride as the fastest driver of the world's most prestigious car brand. The game includes 32 authentic Ferrari car models: Ferrari California, F430, Enzo Ferrari, F40, Testarossa, 250 GTO and more. Use DS Wireless Play to challenge your friends in heated multiplayer races. Complete driving courses to obtain your driver's license through fun challenges. Master a race track or race through the streets of seven famous cities including Paris, Rome and New York.
DodoGo!
Publisher: Neko Entertainment
Players: 1
ESRB Rating: E (Everyone) - Comic Mischief, Mild Cartoon Violence
Price: 800 Nintendo DSi Points
Description: DodoGo! is an adventure set in the time of the dinosaurs. Save as many dodo eggs as possible by leading them to safety. The fascinating little eggs love to roll, jump and laugh together, blissfully ignorant of the dangers around them. Get creative with simple tools. Build dynamic structures and modify the terrain with a simple touch of the stylus. Shape, brush, saw, dig and even use explosives. Enjoy more than 100 captivating missions, with bonus levels for a change of pace and lots of surprises.
System Flaw Recruit
Publisher: Enjoy Gaming Ltd.
Players: 1
ESRB Rating: E (Everyone) - Fantasy Violence
Price: 500 Nintendo DSi Points
Description: This innovative action shooter uses the Nintendo DSi™ Camera application to turn your surroundings into the playing environment. You have been chosen to take part in the most arduous training program to combat the threat we call the Flaw. The invasion could take place at any time, so we need the best there is. Truly unique and totally physical with 360 degrees of intensity, System Flaw Recruit is the future of hand-held gaming excitement.
Don't Feed The Animals
Publisher: Electron Jump Games
Players: 1
ESRB Rating: E (Everyone) - Mild Cartoon Violence
Price: 500 Nintendo DSi Points
Description: Don't Feed The Animals is a strategic defense game about children who have been hoarding their treats all summer in their backyard fort. They've attracted the attention of the local wildlife (the backyard is on the edge of a forest). To defend their treasure, the kids use all the materials at their disposal to create three types of robots: melee, sound and water bots. These bots act like a tower does in a tower defense game, keeping the enemy from the base. Each bot has certain strengths and weaknesses against different enemies. The enemies include bears, raccoons, rabbits, turtles and cats. Play through 50 levels consisting of waves of animals - increasing in difficulty - who attempt to steal the candy. Should a creature reach the base, it will take a treat; this treat must be recovered or it will be lost. Should a boss reach the base, the game is lost. Successfully fend off the animals so the children can enjoy their end-of-summer feast.
Puffins: Let's Roll
Publisher: Other Ocean Interactive
Players: 1
ESRB Rating: E (Everyone)
Price: 500 Nintendo DSi Points
Description: The baby puffins need your help! Reunite the missing baby puffin eggs with their mothers in Puffins: Let's Roll. Several eggs have been misplaced, and they're just about ready to hatch. Use an innovative new control scheme to roll the egg around 20 levels of fiendish puzzles. Race against the clock in two exciting game modes: Safely return the egg to its mother in Egg Roll or try to collect all of the Golden Capelin in Capelin Catch. Beware of rocks, trees, ice and other hazards as you roll the eggs back to the safety of their mothers. Take too long or bump into too many obstacles and you'll have a cranky baby Puffin on your hands.
Scrabble Slam!
Publisher: Electronic Arts
Players: 1-4
ESRB Rating: E (Everyone)
Price: 500 Nintendo DSi Points
Description: Scrabble, long considered to be one of the world's most popular board games, is enjoying a tremendous surge in popularity, both online and in the real world. Scrabble Slam! is a new way to play that challenges players to spell words as quickly as they can.
WiiWare
5 Arcade Gems
Publisher: Nordcurrent
Players: 1-4
ESRB Rating: E (Everyone) - Mild Fantasy Violence
Price: 700 Wii Points™
Description: Welcome to 5 Arcade Gems, a collection of five wacky arcade games. Whether you play alone or together with your friends, you'll definitely find something to suit your taste, be it a medieval knights game or an ultra-modern space shooter. Compete with other knights to beat the Evil Wizard's challenge in Templar Bashing. No hazard gets in the way of the dutiful Pizza Jungle Delivery company, not even the fierce savages who won't tip. Outsmart your competitors in RC Buggy Madness. Demonstrate your skills and reflexes in Lumberjack Trials. And of course, no adventure is complete without some deep-space alien-bursting action in Whirling Rangers.
Brain Drain
Publisher: Enjoy Gaming Ltd.
Players: 1
ESRB Rating: E (Everyone)
Price: 500 Wii Points
Description: Brain Drain is a funny and challenging puzzle game. Place the elements of a scrambled puzzle according to a given model. Select elements with your game cursor and spin them to move elements in the puzzle area. Some puzzles may feature malicious game effects that will slow you down during your puzzle solving. There are three game modes to choose from: Challenge (200 fixed puzzles with preset best times to solve and beat), Race (a stream of puzzles and best-time tables to beat in four difficulty levels) and Random (relaxed, random puzzling that continues endlessly).
Virtual Console
THE KING OF FIGHTERS '95
Original platform: NEOGEO
Publisher: D4 Enterprise
Players: 1-2
ESRB Rating: T (Teen) - Alcohol Reference, Mild Suggestive Themes, Violence
Price: 900 Wii Points
Description: Released in 1995, THE KING OF FIGHTERS '95 is a fighting game that features main characters from the popular Fatal Fury, Ikari Warriors, Psycho Soldier and Art of Fighting games. They return to battle following the release of 1994's THE KING OF FIGHTERS '94. Kyo Kusanagi's rival, Iori Yagami, has also joined the fight to leave his lasting mark on the continuing storyline and on Kyo, the game's hero, so watch out. As with the 1994 release, you'll find three-on-three team battles, a power gauge that lets you store up energy to land a devastating blow, and the one-shot reversal super-special moves unique to the series. On top of all that, this release also adds a new "Team Edit" feature, allowing you to enjoy bouts with a level of strategy like you've never experienced before.
Your Daily Blend of Entertainment News
Staff Writer at CinemaBlend.