Notch Offers Up $13 Million To Make Psychonauts 2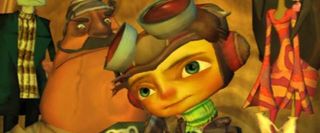 Those few thousand Psychonauts fans out there may have a reason to rejoice, it appears Mike "Notch" Persson from Mojang, the indie studio that created MineCraft, is willing to back Tim Schafer and Double Fine Productions for a Psychonauts 2 and he's $13 million dollars serious about it, too.
We already knew that Notch wanted to help fund a sequel to Psychonauts...a game that received critical acclaim and poor retail sales. According to GameIndustry, Notch and Schafer seem to be getting close to making a legit deal to get a Psychonauts sequel off the ground. This comes after many failed attempts by Schafer to secure funding for the project from larger publishers, which he estimated would be higher than the production costs of the original game, which clocked in at $12 million. Notch has offered a legitimate $13 million toward production on a Psychonauts sequel and Schafer is willing to take him up on the offer.
My only reservation about this project is that it seems like there are a lot of cost effective measures that could really dampen the bloated costs for a platforming game like Psychonauts 2. As I may have mentioned before, if Epic could squeeze out Gears of War for under $10 then Double Fine should be able to do the same with Psychonauts 2, or at least find ways to bring the budget down.
Schafer did have a few things to say about Mike "Notch" Persson despite not actually revealing when production on Psychonauts 2 would get underway, saying...
As of right now, Double Fine Productions is hard at work on their Kickstarter funded point-and-click adventure title, which raised close to $1 million in just under a day and is edging close to $2 million as of the writing of this article.
Staff Writer at CinemaBlend.
Your Daily Blend of Entertainment News
Thank you for signing up to CinemaBlend. You will receive a verification email shortly.
There was a problem. Please refresh the page and try again.