No One Would Play Single-Player Campaign For Star Wars: Battlefront, EA Says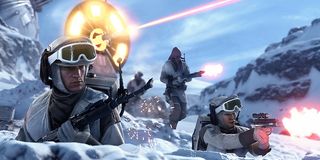 If you've been following the Star Wars: Battlefront news, you're likely aware of the fact that the upcoming shooter will not feature a single player campaign. EA's Peter Moore recently explained why that is, and the reasoning may surprise you.
In a recent interview with Gamespot, Peter Moore explained that the reason Star Wars: Battlefront won't have a single player campaign is because the team didn't feel enough people would be interested in playing it.
When asked if games with single player campaigns sell better than those without, Moore said, "So, there's two phenomena with that statement. The first is that yes, you might be right. The second is that very few people actually play the single-player on these kinds of games. That's what the data points to."
In the case of many modern shooters, where the story has been shifted so far to the back burner that it's barely on the stove, I wouldn't necessarily disagree with Moore's logic. But I wouldn't put that blame on the players, either. Give folks a cut and paste grizzled wartime yarn that will barely keep them occupied for a handful of hours and they will start to ignore that part of the package. I'd argue that the more annualized versions of Call of Duty and Battlefield, for instance, should ditch the campaign entirely to focus more resources on the main attraction.
But we're talking about Star Wars here. You've got a boatload of iconic moments to pull directly from or, if you want to go an original route, more than enough juicy mythology to sink your teeth into. If any shooter should have a story-driven campaign, this is it.
According to Moore, though, EA and DICE are waiting to see how this one plays out.
"Well, you never kick yourself about these things," he said. "You make a decision, years out, and you plan for what the world looks like when a game ships in two or three years. That's about the intuitiveness about the executive producer, and his or her vision for the game. Between when a dev team starts work on a game, and when it finishes, the world becomes a different place."
To be fair, we still don't have all of the details as to how robust the features in Battlefront will actually be. New details are pouring in weekly leading up to the November launch and, at present, it seems like we're looking at a pretty hefty package boasting lots of maps, lots of modes and even a selection of missions you can play solo. Maybe the game doesn't "need" a story-driven campaign, but it sure seems like fans really wanted one.
I'll be interested to see what this whole ordeal means for other shooters. Will the next Battlefield ship sans a story, for instance? After all, most folks just skip that content, right?
Staff Writer for CinemaBlend.
Your Daily Blend of Entertainment News
Thank you for signing up to CinemaBlend. You will receive a verification email shortly.
There was a problem. Please refresh the page and try again.