Don't Starve, Outlast Coming To PS4 Soon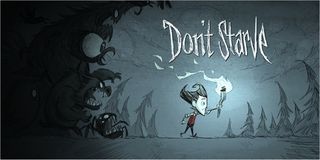 Sony is still picking slim but picking right from the ripe library of the Glorious PC Master Race's bread and butter distribution portal... Steam. If it's fit for Steam then it's fit for the PS4... or so, that appears to be Sony's motto, as two more highly lauded games from the illustrious PC indie scene will make it onto Sony's newest console.
According to iGame Responsibly, the popular indie title Don't Starve, which released earlier this year, will make the jump to the PlayStation 4 beginning January 7th, and it will be a part of the PlayStation Plus Instant Game Collection.
The game sees players trying desperately to survive after hopping through dimensional warp gate. The game is steeped in ecological psychology, as players will use the intrinsic hostile/passive natures of the world's inhabitants to take advantage of their surroundings and attempt to either return home or control the world around them.
Don't Starve wasn't just praised for its difficult gameplay and strong sense of survival, but also for its reliance on discovery and exploration, a trait we rarely get in games these days. In fact, it was that sense of exploration and the game's deep rooted manipulation of light, shadows and artistically flavored character designs that really helped propel Don't Starve into the spotlight as one of the important indie games to watch. Sony was obviously watching.
However, Klei Entertainment's emergent survival game isn't the only indie joining the PlayStation 4's library of patch fee-free games. Red Barrels' ridiculously grimy horror game, Outlast, will also be landing on the PS4 as well.
As noted by iGame Responsibly, there is no set date for the release of Outlast on the PS4; but given that the game is already completed on PC and available, it's not unlikely that it should be following closely on the heels of Don't Starve's January 7th debut.
For those of you unfamiliar with Outlast, just know that it's the game where a dude's schlong gets savaged by monsters. No joke, there's some real mean schlong treatment in that game... you would think it was an anti-slaughterhouse themed game with the amount of sausage mistreatment that goes on.
Anyway, you can check out some gameplay footage of Outlast below, because I'm sure many of you are curious about how much sausage abuse is contained within the game and you probably want to see for yourself just how bad it is. Well, go on... watch it. I dare you.
Your Daily Blend of Entertainment News
Staff Writer at CinemaBlend.