PS Vita TV Lets You Stream PS4 Games And Play Vita Titles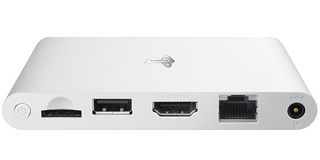 Sony revealed a new type of PlayStation Vita at their pre-Tokyo Game Show press conference today. PlayStation Vita TV is a device that allows you to play Vita games on your television, among other things.
The PS Vita TV is a tiny white box, smaller than any other PlayStation hardware release to date. The front has ports for an SD card as well as HDMI and Ethernet cables. Up to two DualShock 3 controllers can be connected to the device.
At launch, the PS Vita TV will be able to play over 1,300 titles. This includes all the PSP and PSOne games released through PSN, along with many Vita titles. Not all Vita games are playable on Vita TV, though, due to the device's lack of touchscreens, cameras and motion sensors. If you can't play it with a DualShock controller, you can't play it. Entertainment services available through PSN like Hulu will also be accessible through PS Vita TV.
The device will feature support for the PlayStation 4 and its DualShock 4 controller. Players will be able to stream games from their PS4 to the PS Vita TV. This means you could, for example, play PS4 games on your bedroom television even if that console is in the living room.
The Vita TV will be available at launch for cheaper than a normal Vita. It will cost 9,954 yen, or roughly $100, by itself. A bundle with an 8GB Vita memory card and a DualShock 3 controller will be offered for 14994 yen (about $150).
You could argue that the Vita TV will knee-cap the sales of the normal Vita models. However, I'd argue that this device will help Sony make inroads with gamers who never felt the need to pick up a Vita. There are a lot of smartphone users out there who feel like getting a dedicated gaming handheld would be a redundant purchase. The PS Vita TV allows them to try out the handheld's library in their own home. Furthermore, the PS4 streaming capabilities should be very compelling for anyone playing to pick up that console.
Sony will release the Vita TV on November 14th in Japan. There's no word on whether they'll bring the device to North America or Europe yet.
Image 1 of 4
Your Daily Blend of Entertainment News
Staff Writer at CinemaBlend.