PS4 Beats Xbox One In September NPD; 3DS Scores Big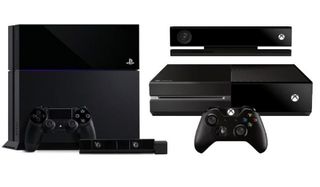 The September NPD was a big month for the console wars. The PlayStation 4 and Xbox One were facing off against some really, really stiff expectations for the previous month... why? Well, because Wedbush Morgan Securities analyst Michael Pachter made some over-the-top claims, and now he's reaping what he sowed with the actual stats being made public.
So a few days ago Michael Pachter stated that the Xbox One would likely beat the PS4 in September NPD results. This seemed like a completely bogus claim given that Pachter put the Xbox One over the PS4 by nearly 100,000 SKUs. The likelihood of that scenario seemed completely unlikely, but some sites thought that Pachter may have been on point... he was not.
According to Venture Beat Sony Computer Entertainment America brand boss Guy Longworth stated...
This bit of braggadocios mentality spread from the troughs of the PR pit to the social media meta-verse, as the official Sony Twitter account reiterated Guy Longworth's statement – though conveniently lacking any hard numerical figures.
You know what's exceptionally sad? Pachter had gone over and about how the Xbox One Madden NFL 15 bundle would have helped pushed Microsoft's console ahead of the competition, and yet there is Madden NFL 15... up there, proudly displayed as part of the winning team's accomplishments.
Microsoft continued to keep silent on the matter as Eric Lempel, vice president of Sony Network Entertainment International came forward to discuss Sony's steamroll through the month of September, as noted on GamesIndustry.biz, saying...
Unfortunately, no actual numbers were released for the month. It's like everyone's afraid because of some massive movement taking attention away from the big upcoming sales season.
Ironically enough, Nintendo wasn't afraid to make it known that Super Smash Bros., on the 3DS managed to move 705,000 SKUs throughout September. GamesIndustry.biz notes that 135,000 units were moved digitally. The new game also managed to get the Nintendo 3DS to push 140,000 units. Amazing.
Sadly, we still have no figures about the performance of the Xbox One or PS4 as far as numbers go, but it was made pretty clear in the VG Chartz estimates that the PS4 was likely going to beat the Xbox One, just based on the Destiny promotions alone.
Staff Writer at CinemaBlend.
Your Daily Blend of Entertainment News
Thank you for signing up to CinemaBlend. You will receive a verification email shortly.
There was a problem. Please refresh the page and try again.