Smash Bros. Wii U Could Have New Challenges, Board Game Mode And Level Editor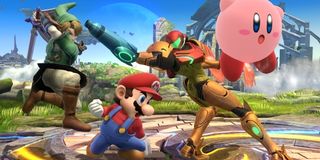 We alredy knew that the 3DS and Wii U versions of Super Smash Bros. would differ in terms of content but, if a listing on Amazon.com is to be believed, it looks like we might have a couple of details pertaining to what, exactly, some of those differences might be. For starters, there could be a level editor, as well as a "board game" mode.
It's been a long road to the latest version of Smash Bros., complete with big character reveals, drip-fed feature lists and a 3DS release that went very, very well. When Nintendo started dishing details about the two versions of the game, however, they said from the get-go that, while the character rosters would be identical, some levels and modes would vary.
For starters, the 3DS version of Smash Bros. has a handful of levels specifically based on portable games from Nintendo's past, perfect considering its home on the latest portable console. There's also word that the Wii U version will have additional levels based on other home console games to make up the difference. Additionally, some of the shared levels may be bigger or more dynamic in the Wii U version.
Up until this point, the only difference in game modes that we were aware of was the Smash Run mode for 3DS. Smash Bros. did away with a story mode this time around, this time replacing it with a unique dungeon explorer meets final showdown for the 3DS. Players get dropped into a massive level where they can explore, beat up baddies and collect power-ups for five minutes. When the clock hits zero, they get dropped into a battle that could be free-for-all, team, a race or more.
While the Wii U version of Smash apparently won't get this offering, the game's listing on Amazon may have let slip a couple of secrets concerning exclusive content.
Aside from some jibba-jabba about Amiibo functionality (which I am still pretty much scratching my head over), the listing reads: "Whether you're creating stages on the GamePad, competing in challenges crafted by Master Hand and Crazy Hand, or outwitting your opponents in a brand new board game mode, there's no doubt the ultimate Smash Bros. game has arrived."
It should not come as a surprise that, being on a next gen console, the Wii U version of Smash is going to offer new bells and whistles over the 3DS version of the game. If nothing else, these differences are needed in order to convince buyers to double dip on the game. The most recent game in the series, Brawl, had a level editor, so it makes sense that the do-it-yourself arena simulator would make a return. It's also not surprising to hear that there will be extra challenge modes starring the game's oddball bosses.
The board game mode, though, is intriguing. Maybe it'll be something like Mario Party, but with a distinct Smash Bros. twist.
Thankfully, we only have to wait until Nov. 21 to find out.
Your Daily Blend of Entertainment News
Staff Writer for CinemaBlend.