PS4 Officially Announced, Has Slightly Better Specs Than Xbox 720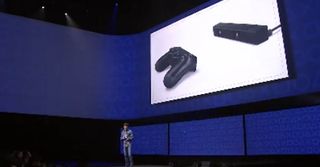 It was pretty funny seeing Sony announce the PlayStation 4 today without actually showing the console. All they unveiled was the controller we talked about a short while ago. However, Sony did drop some hints about the system's specs, and one thing they wanted to make clear was that in a few departments the PS4 outshines aspects of the leaked specs for the Xbox 720.
While the console war is an inevitable thing, one thing that the tipster let loose about the Xbox 720 was a roadmap of the hardware. It's possible Microsoft may modify this before the console's release (and maybe even before it's announced) but we do know that the Xbox 720 has 8GB of DDR3 RAM, where-as Sony explicitly announced that the PlayStation 4 will have 8GB of GDDR5 RAM. The same amount, but much faster.
They're also using a new combined GPU and CPU shared architecture with supercharged speeds, and the GPU that can topple 2 teraflops. What's more is that the PlayStation 4 is running an x86 CPU system based on PC architecture with eight-cores, meaning that the PS4 is also an octo-core console.
What does all this mean? It means that both the Xbox 720 and PS4 are almost equal, but the PS4 may have slightly better specs than its console rival.
Regardless, the consoles are about close enough that there's certainly not going to be a hardware gap between the PS4 and Xbox 720 the way there was a gap between the Xbox and PS2 and the PS3 and Xbox 360. This next generation will truly be defined by the software and that's the most exciting part about this upcoming rivalry.
Sony also wasn't shy about showcasing the new controller for the PS4 with touchscreen capabilities, a sensor bar on top and a home button for easy network and social access. Cameras in the controller also enable for some truly unique possibilities with the hardware along with a sensor bar.
Sony has not yet revealed the system's pricing or availability other than that it'll arrive holiday season 2013, but more news is expected to arrive at this year's E3. For more updated information, be sure to visit the official PlayStation blog.
Staff Writer at CinemaBlend.
Your Daily Blend of Entertainment News
Thank you for signing up to CinemaBlend. You will receive a verification email shortly.
There was a problem. Please refresh the page and try again.