Perfect World Bringing MMORPGs To Consoles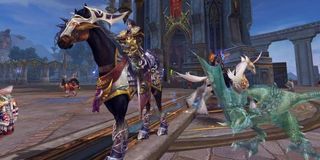 Perfect World Entertainment is looking to skip out on dipping its toe into console waters and instead just dive straight in headfirst, announcing plans to bring its current and upcoming free-to-play MMOs to next gen consoles.
It's no secret that home consoles are becoming a more common place for gamers to get their free-to-play fix. Sony has led the charge in that regard with the PlayStation 3 offering games like DC Universe Online and Free Realms and the PS4 boasting titles like Blacklight Retribution, Warframe, Warthunder and, soon, Planetside 2.
Apparently Perfect World Entertainment has taken note of this slowly mounting shift, recently announcing plans to make an unknown number of its existing and upcoming free-to-play MMOs available on home games consoles.
"Perfect World Entertainment Inc…announced today a company expansion by creating a console division targeting current and next-gen consoles," reads the press release. "Players will be able to experience the best free-to-play online games on their consoles, bringing PWE's popular games to a whole new audience."
Traditionally built for the PC crowd, it's been proven that a bit of retooling and creative design choices can make the conversion from mouse and keyboard to controller a snap for most MMOs, something that Perfect World CEO Alan Chen believes in wholeheartedly.
"Perfect World Entertainment has long been the leader in free-to-play PC titles," Chen said. "Bringing our titles to consoles is a natural progression for us, and we can't wait to set a new standard for console MMORPGs and other genres."
Perfect World General Manager of Publishing, Andrew Brown, said the developer is looking at consoles as a new way to better connect with their audience.
"The opportunity to work on new types of projects with developers from all over the world is really exciting for us as a company," he said. "We are confident in our outlook entering into this new business, and you can expect Perfect World to be a major player in the console marketplace."
The announcement goes on to promise more details throughout 2014, but no word yet on what projects might be in the works. The developer's portfolio consists of games like Rusty Hearts, Star Trek Online, RaiderZ and Dungeons & Dragons: Neverwinter, just to name a few. On a personal note, I'd like to see all three of those games make the jump to consoles, just in case anyone from PWE is taking notes. Rusty Hearts would work especially well, as the game controls more like a side-scrolling brawler than a traditional MMO.
So what say you, readers? Are there any Perfect World games you'd like to see first in line for consoles? Let us know in the comments below and we'll fill you in on any additional details as they're made available.
Staff Writer for CinemaBlend.
Your Daily Blend of Entertainment News
Thank you for signing up to CinemaBlend. You will receive a verification email shortly.
There was a problem. Please refresh the page and try again.