Pete Hines Says Skyrim's DLC Problems Are Not Sony's Fault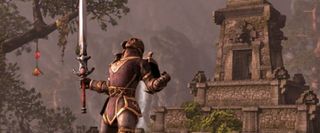 Oh boy, Bethesda really seems to be in the dog house when it comes to Elder Scrolls V: Skyrim. PR frontman for the company, Pete Hines, let loose the acknowledgment that all the problems with Skyrim on the PS3, including the huge delay in DLC, was entirely on Bethesda and is not Sony's fault.
A few days ago the latest DLC for Skyrim just released on PC called Hearthfire. Quite naturally, the DLC being made available for the Xbox 360 and PC made PS3 owners question when the content would be made available to them, but Hines reiterated that there were no further updates regarding the condition of DLC for the PS3 version of the game.
Digital Spy spied new comments from Hines on his official Twitter account, to which Bethesda's VP of PR and marketing stated that...
There were apparently some articles stating that Hines pointed to Sony and the PS3 as the culprit of all their problems for the DLC not appearing on the console. Hines, was quick to pull back any sort of insinuation that it could be anyone else's fault other than Bethesda, putting the responsibility squarely where it's due.
However, let's not beat around the bush here, the consoles are well on in their years and at this venture game ideas are limited by the hardware they're made on. The only solution is either to scale back on hardware-pushing features or simply avoid porting the game to that console. Although, the latter isn't much of an option.
This really does worry me for 2013 and 2014, because there is nothing else they can get out of these current-gen consoles without sacrificing something big (i.e., graphics or gameplay) and it certainly leaves gamers to question exactly what developers will have to give up for future releases to accommodate the aging hardware?
Staff Writer at CinemaBlend.
Your Daily Blend of Entertainment News
Thank you for signing up to CinemaBlend. You will receive a verification email shortly.
There was a problem. Please refresh the page and try again.