The Pinball Arcade Adds Star Trek: The Next Generation, Attack From Mars And Genie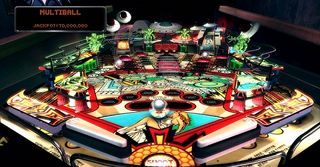 The Pinball Arcade continues to roll out some of the best real-world tables of all time and, this month, the folks at FarSight have three brand new offerings to add to the collection. Get ready for the Star Trek: The Next Generation premium table, as well as a table pack that includes Attack from Mars and Genie.
If you want faithful recreations of tables you can actually hunt down and play in the real world, the The Pinball Arcade is just about the only show in town for console gamers. Thankfully, said "show" also happens to be of extremely high quality, so it's always good news when FarSight lets us know that new tables are on the way.
Announced this morning through the PlayStation Blog, the first table rolling out this month with be the hugely popular Star Trek: The Next Generation, joining the collection on March 19. Then, just a week later on March 26, Table Pack 10 will add both Attack from Mars and Genie to the lineup.
I'm a huge fan of this game and, as always, I love the team's "something new, something" old approach to the two-table packs. I love the Attack from Mars table and have had the chance to play it at quite a few venues. Genie, however, is an old school table I've never seen in real life and, as much as it pains me to admit it, this may be the only way I ever get to play the table.
As a final surprise announcement, FarSight's Lead Designer, Bobby King, has also made it known that The Pinball Arcade will be making the jump to the PlayStation 4, complete with a modified engine and all sorts of spiffy new visual effects. So, yeah, that's something nice to look forward to.
Staff Writer for CinemaBlend.
Your Daily Blend of Entertainment News
Thank you for signing up to CinemaBlend. You will receive a verification email shortly.
There was a problem. Please refresh the page and try again.