The Pinball Arcade Gets The Terminator 2 Table Tuesday On PS3, Vita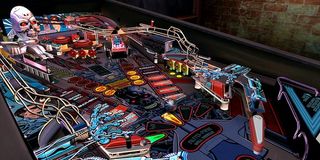 Dun-dun-dun-da-dun! Dun-dun-dun-da-dun! "Come with me if you want to live." Yeah, I could just keep throwing random Terminator 2 references out there, or I could just finally cut to the chase and let you know that, this Tuesday, the T2 table will finally be making its way to The Pinball Arcade.
Set to arrive on the PlayStation 3 and PlayStation Vita, the Terminator 2 pinball table began its journey to The Pinball Arcade the same way as many of the game's other big licensed tables (The Twilight Zone, Star Trek: TNG), through Kickstarter. After yet another successful campaign through the crowd-funding mega-site, FarSight Studios have now completed their build of the digital version of the popular table, set to release it this week as cross-buy DLC for both Sony's home and portable console.
The Pinball Arcade has been on a roll this past month, releasing two new packs of tables throughout September including Whirlwind, Flight 2000, Champion Pub and Goin' Nuts. I actually got to play the physical Champion Pub table at a pinball even held in my home state earlier this year and walked away saying "I hope that table gets added to The Pinball Arcade someday, but I doubt that'll happen." I was wrong, and I'm very excited about that fact, as the table is a lot of fun in its virtual format. Goin' Nuts is an even cooler table to have in the digital space, as it was never actually released to a wide audience. Only a handful of the tables were ever produced before it was scrapped, which means it's a pretty awesome bit of gaming history you're getting to play with that table.
But today we're done looking to the past and are instead focusing on the future, one where robots have overthrown mankind and the fate of humanity rests in one reprogrammed killing machine and his quest to protect John Connor.
Only a few months after the Kickstarter campaign wrapped up, the Terminator 2 table is now ready to roll, according to official word from FarSight Lead Designer, Bobby King.
"This table was released by Williams in 1991 and is unquestionably one of the greatest pinball tables of all time," King said. "It was designed by the legendary Steve Ritchie, who also designed Firepower, Black Knight, High Speed and Star Trek: The Next Generation."
King went on to explain that the T2 table was the first game by Williams to use a dot-matrix display, and also has the distinction of being the first table to feature a video mode and a cannon that could be controlled by the player.
T2 is joining the game's ridiculous roster of tables at the perfect time, too, as King announces that The Pinball Arcade has officially begun hosting tournaments for players to jump in to and see how they stack up against the rest of the world.
Staff Writer for CinemaBlend.
Your Daily Blend of Entertainment News
Thank you for signing up to CinemaBlend. You will receive a verification email shortly.
There was a problem. Please refresh the page and try again.