Call Of Duty: Advanced Warfare Double XP Weekend Begins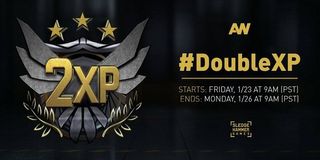 Get locked and loaded, soldiers, (and maybe stock up on Mountain Dew), because you're in for a long play session with Call of Duty: Advanced Warfare if you plan to take full advantage of the upcoming double experience weekend.
Slegdhammer has announced a 2XP weekend for its best-selling first-person shooter, running from this morning, Jan. 23, through Monday morning, Jan. 26, at 9 a.m. PST. In case that wasn't clear enough: Play a lot of Call of Duty: Advanced Warfare over the next couple of days and get twice as much experience as you usually would.
"It's been an amazing few months since Call of Duty: Advanced Warfare launched, and we're committed to continuing to deliver the best experience for our fans through this upcoming season of content," reads the announcement.
With the Havoc DLC pack duo out on Xbox One and Xbox 360 next Tuesday, Jan. 27, Sledgehammer thought now would be a good time to celebrate with a special weekend of play.
"This is a great chance to go online with some buddies and gain a Prestige level or two," continues the announcement. "In additiona to Double XP weekend, we're launching two new playlists that we encourage you to try out."
The first of these two new playlists is called "Hardcore Mosh Pit," which is about as dude-bro-dude a name I could ever imagine for an online mode.
As the "Mosh Pit" portion of the name implies, this playlist is a mixture of all CoD game modes, including team deathmatch, domination, kill confirmed and search and destroy. These modes will be cycled on a bunch of different maps, just like the standard Mosh Pit mode, but the Hardcore twist means there will be a limited amount of HUD info, lower health and friendly fire turned on. Good luck not killing your pals!
Also popping up this weekend is the Comeback 24/7 list. Sledgehammer recently held a contest to see which map players like the most, with Comeback earning top honors. As a result, you'll be able to play a variety of game modes (team deathmatch, uplink, kill confirmed, domination, etc.), all on the Comeback map, non-stop.
Say what you will about annualized game series, teams like Sledgehammer sure don't rest on their laurels when it comes to keeping the community active. Events like this help change up the pace a bit and give players more reasons than ever to keep right on playing. If you're in need of an experience boost before taking on Exo-zombies later this winter, then this weekend is probably the best chance you're gonna get.
Staff Writer for CinemaBlend.
Your Daily Blend of Entertainment News
Thank you for signing up to CinemaBlend. You will receive a verification email shortly.
There was a problem. Please refresh the page and try again.