Planetside 2 For PS4 Confirmed At 60fps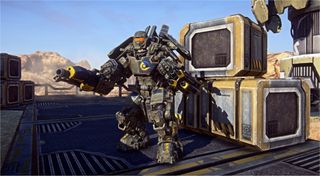 It was previously confirmed that Planetside 2 ran at native 1080p on PlayStation 4, but now we have confirmation from SOE that the game will also run at 60 frames per second on Sony's console, making it one of the most technically impressive feats for an MMO running on a home console.
Gamespot managed to get in some talk-time with SOE's creative director for Planetside 2, Matt Higby, who talked over some impressive gameplay that was on display at this year's E3. You can check it out at the 10:09 mark in the video below.
For those of you at work or are unable to view the video for whatever reason, Higby says that...
Having thousands of players flood onto a single shard with massive battles unrivaled in the world of free-to-play gaming on home consoles, it must be mentioned that this really is an amazing milestone achievement that the team has accomplished with Planetside 2.
Keeping a game like this fresh on the minds of PS4 owners is a great way to further exemplify the power difference between Microsoft and Sony's consoles.
Planetside 2 will join other notable games on the PlayStation 4 that also run at 1080p and 60fps, including Warframe, Tomb Raider: Definitive Edition and Diablo III to name a few.
Sony has been using the difference in resolution to a great deal of their advantage in the current console war due to the PlayStation 4 having more powerful hardware than the competitors. However, while some people may claim they can't see a difference in resolution (even though if you play a game on PC and go from 640 x 480 to 800 x 600 the difference is remarkably irrefutable) the one thing that actually does affect gameplay is frame-rate.
Using 60fps as a selling point for a game ensures that players are getting an exceptionally smooth experience with low-latency input response times and lesser strain on the eyes. If Sony continues to use the frame-rate benchmark to outdo the competition, it could easily continue to maintain a lead just based on providing better multiplatform support for some of the biggest games on the market.
While there's still no release date rolled out for Planetside 2 on the PlayStation 4, we at least know that the game is progressing rather well on Sony's console and that they are aiming for some pretty high specs for the game.
If you can't wait to get your hands on Planetside 2 for the PS4, you can play it right now, for free, on PC by heading on over to the official website.
Your Daily Blend of Entertainment News
Staff Writer at CinemaBlend.