Planetside 2 Confirmed Native 1080p For PS4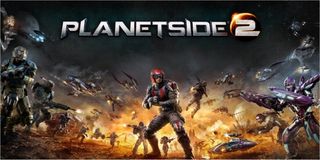 In the war of resolution, 1080p is king for consoles. If your console can hit native 1080p, it means it's made it... it's a somebody, it has cajones. If a console can't hit native 1080p and regularly has to settle for eye-straining resolutions like 792p or 810p, then it poses a significant problem for that platform.
Thankfully, Sony Online Entertainment has reportedly confirmed that Planetside 2 will be native 1080p for the PlayStation 4.
According to a brief report from IGN, the game is set to run at 1080p with a target of "smooth" frame-rates when it launches sometime this year for the PS4.
As noted in the article...
This is great news for PlayStation 4 owners, as they've been desperately in need of continued support for 1080p games to showcase why it's a console worth its asking price.
One of the biggest hurdles for this generation is getting up to the 1080p barrier, where too many games are failing to hit the standard, especially on the PS4's arch rival.
Thankfully, SOE recognizes the need to hammer nails into coffins and put Xbox fanboys into their place like Brownsville-Harlington residents put into the food stamp line.
Planetside 2 is being hailed as the PlayStation's Halo, bringing vibrant colors and neon-bleached palettes to Sony's newest console. The game's free-to-play model is sure to ratchet up the popularity of the title on the platform, just the same as Warframe has become one of the top played games on the console due to its high quality acrobatics, unrivaled butt-kicking mechanics and free-to-play monetary system.
Right now, the Xbox One doesn't have anything to remotely compete with Warframe except for Dead Rising 3. However, Warframe is 1080p and 60fps and Dead Rising 3 is 720p at barely 20fps.
It doesn't matter how fun a game tries to be, if it's barely hitting 20fps then there's nothing about that worth calling fun. In fact, that's one of the main reasons why a lot of people have moved up and onward from the geriatric twins. Remember GTA IV's piss-poor frame-rate on the PS3? It looked and ran with about as much appeal as a supermodel choking on a foot long Subway sandwich.
The only hurdle John Smedley and crew need to ensure with Planetside 2 on the PS4 is that the 60 frames per second are good and stable. With 1080p and 60fps set as the standard, it'll be yet another game on the list for the PS4 that brings both amazing visuals and unrivaled gameplay to the console arena.
Sadly, Xbox One owners have no answer for Planetside 2, but then again they also have no answer for all the other titles missing on the platform due it being focused on maximizing the potential of watching TV on your TV.
Staff Writer at CinemaBlend.
Your Daily Blend of Entertainment News
Thank you for signing up to CinemaBlend. You will receive a verification email shortly.
There was a problem. Please refresh the page and try again.