Planetside 2 Creative Director Is Leaving DayBreak Games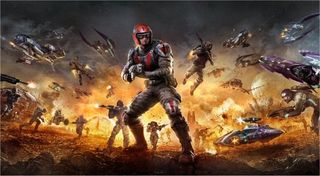 DayBreak Games is the new studio that used to be known as Sony Online Entertainment. It was one of the wings under Sony that focused primarily on online games. Well, shortly after changing names, the creative director for Planetside 2 decided it was time to pursue other interests.
In a rather brief post over on Reddit, creative director Matthew Higby explains that he's moving onward from his position at DayBreak Games and that his time with Planetside 2 is finished.
Higby calmly writes...
The reorganization Higby mentions was a recent layoff wave that hit some of the DayBreak Games staff. Layoffs are usually common when considering that a company is recently bought out. However, it would have seemed like adding additional multiplatform endeavors to the studio's plate would have required the team to expand, not shrink.
Following the news about the layoffs, Bohemia Interactive's Brian Hicks, the project lead on the standalone rendition of DayZ, tweeted out the following comments.
You see, with Sony Online Entertainment turning into DayBreak Games and branching out from under Sony, they can now make or port games to the Xbox One. Previously, SOE would often port games from PC to PlayStation platforms, converting over games like Everquest and DC Universe Online to the designed PlayStation consoles. But now that they're free from Sony, this means H1Z1 and Planetside 2 could be popping up on Microsoft's console sooner rather than later.
Of course, those games would pop up without the creative direction from Matthew Higby.
He goes on to write...
Higby spends the rest of the post thanking the Planetside 2 community for their support of the free-to-play, third-person shooter game, as well as the Reddit community for embracing him with kind words about his decision to leave DayBreak Games and Planetside 2.
In the most on the Planetside 2 sub-Reddit, Higby doesn't mention what he's doing next or where he's going, but I'm sure we'll find out soon enough.
Planetside 2, meanwhile, will continue going through testing for the PS4 as it nears finalization.
Your Daily Blend of Entertainment News
Staff Writer at CinemaBlend.