Pokemon Black and White 2 Can Be Caught Oct 7th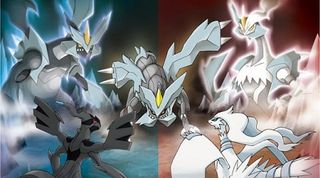 If you want to be the very best, like none there ever was, your wait is almost over. Nintendo announced this morning that Pokemon Black Version 2, Pokemon White Version 2 and Pokemon Dream Radar will be hitting the DS and 3DS on October 7th.
All you monster hunters in training had better get in some last minute practice, because the first ever numbered direct sequels in the Pokemon franchise is only a few months away from being released into the wild. These will be accompanied by a new digital Pokemon game, Dream Radar, launching on the Nintendo eShop for 3DS. And if you're playing on the 3DS, you better believe all that new catching and battling can be done in three glorious dimensions.
The Pokemon games have become immensely popular over the years thanks to their light-hearted approach to the RPG genre. Players control a young trainer who must travel the world in order to build the strongest collection of monsters possible. Once a monster is caught, it can be trained and used in turn-based battles, eventually evolving into stronger forms.
While White Version 2 and Black Version 2 will follow this familiar formula, Dream Radar will give players a chance to catch Pokemon in the real world using their 3DS camera and augmented reality. These can then be transferred directly into the new cartridge-based games to be trained for battle.
"No matter whether people are playing on Nintendo DS or Nintendo 3DS, they'll be getting an incredible Pokemon experience that expands upon the beloved Pokemon Black Version and Pokemon White Version said Nintendo of America's EVP of Sales and Marketing, Scott Moffitt.
So mark your calendars and get those training skills honed to a fine edge. Your next trip into the world of pocket monsters begins in just a few months.
Staff Writer for CinemaBlend.
Your Daily Blend of Entertainment News
Thank you for signing up to CinemaBlend. You will receive a verification email shortly.
There was a problem. Please refresh the page and try again.