Portal 2 Leads Spike TV's VGA Nominations Followed By Arkham City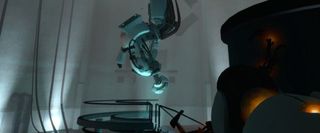 Spike TV announced the list of nominees in a number of categories for this year's VGAs. Out of the many games nominated across a broad range of fields, Portal 2 has shot ahead with the most nominations followed closely by Batman: Arkham City and Uncharted 3: Drake's Deception.
It was announced that Portal 2 has landed more than 12 nominations across a wide range categories for this year's Spike TV Video Game Awards. Following closely behind Portal 2 is Rocksteady and Warner Bros Interactive's Batman: Arkham City with a respectable 10 nominations and following directly behind that is Naughty Dog's highly praised cinematic adventure game, Uncharted 3: Drake's Deception, with 9 nominations.
Spike is aiming to capture a much bigger audience this time around so the show will be produced by Mark Burnett and will stream live for international audiences from the Spike TV website, as well as have a simultaneous broadcast on MTV2.
You can also check out a few other nominees and categories in the list below. The Spike TV VGAs will air live December 10th at 8:00PM EST on Spike, Spike.com and MTV2. For further information feel free to visit the Official Website.
STUDIO OF THE YEAR
Bethesda Game Studios
Naughty Dog
Rocksteady Studios
Valve
BEST SHOOTER
"Battlefield 3" (Electronic Arts / DICE)
"Call of Duty: Modern Warfare 3" (Activision / Infinity Ward / Sledgehammer Games)
"Gears of War 3" (Microsoft Studios / Epic Games)
"Rage" (Bethesda Softworks / Id Software)
BEST INDEPENDENT GAME
"Bastion" (Supergiant Games)
"Minecraft" (Mojang)
"Superbrothers: Sword and Sworcery EP" (Capybara Games)
"The Binding of Isaac" (Edmund McMillen)
Staff Writer at CinemaBlend.
Your Daily Blend of Entertainment News
Thank you for signing up to CinemaBlend. You will receive a verification email shortly.
There was a problem. Please refresh the page and try again.