Project CARS Vs Real Life Video Comparison Is Jaw-Dropping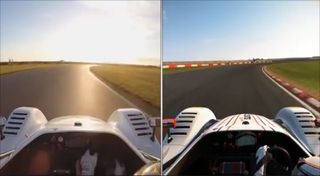 Every single time one of these real-life comparisons drop that line-up a side-by-side showdown between real life professional sports car racing and Slightly Mad Studios' realistic vehicular racing simulator, I'm always floored at the near imperceptible differences between the two.
That last statement may read like hyperbole, but just check out the above video from YouTube user ADRIANF1esp [via Car Gaming Blog]. It's marvelous.
The video features the Radical (Audi?) SR8 on the Snetterton 200 track. It's a single lap and it goes by awfully quick.
If you don't stop to measure the details it's easy to get lost in the comparison and forget which one is real and which one is a simulated program. Slightly Mad Studios' Project CARS really shines bright in this comparison.
There are a couple of things that do give away that the right side of the screen is actually Project CARS, and it mostly has to do with the camera being too "clean". On the left side of the screen the real-life footage has a grainy gauze to it that reminds us that it's footage. There's also a bit more shake and bounce in the camera when the car goes over bumps and or makes sharp movements.
Also – and this will probably seem like nitpicking – you can mostly tell which one is real or not based on the grass rendering. The grass in the real version of the footage is prickly and protuberant. We're not necessarily seeing that level of geometrical tessellation from Project CARS, but I doubt gamers would be happy if majority of the processing power went into rendering individual blades of grass.
Even still, the graphics in Project CARS really just standout in an absolutely beautiful way.
I think that the physics have really come along well and if you're rocking a decent steering wheel setup you'll be a-okay when playing the game. I have heard from some people that the physics don't hold up as well when playing with a controller and that there's an issue of trying to maintain grip and control of the car(s) at high speed. Of course, this was months ago and Slightly Mad has plenty of time before the March, 2015 release date rolls around to fix up, fine-tune and modify the handling of the game.
I get the feeling that there's always going to be a pretty big divide between playing Project CARS with a controller and keyboard compared to hunkering down behind a quality racing wheel with pedals and a gear shift. But hey, I imagine some people will be desperate for a quality racing sim on the PS4 and Xbox One and Project CARS fits the bill.
You can learn more about the game by paying a visit to the official website.
Staff Writer at CinemaBlend.
Your Daily Blend of Entertainment News
Thank you for signing up to CinemaBlend. You will receive a verification email shortly.
There was a problem. Please refresh the page and try again.