Ravaged Announced, Post-Apocalyptic Co-Op FPS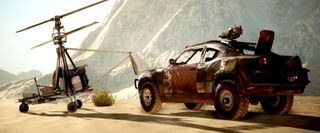 If you've been craving for more games on the line of Borderlands or Fallen Earth then you might enjoy the upcoming title from indie studio 2 Dawn Games. This isn't just some big ambitious, aimless project though, all the guys working on Ravaged are industry vets, with titles like Battlefield and Frontlines: Fuel of War stapled to their names.
Basically, Ravaged sees gamers taking to the wasteland and fighting either with or against one of two groups, the Resistance or the Scavengers in competitive, team-based bouts. Much like Borderlands the game has a strong focus on cooperative multiplayer as well as wasteland combat and exploration using a number of vehicles and familiar weapons. From the looks of it the game is basically what Rage's multiplayer should have been, so maybe id Software will take note for Rage 2.
The game is still under heavy development but if they could just manage to squeeze in a little more of the atmospheric ambiance of other open world games like Far Cry 2 or S.T.A.L.K.E.R. but manage to fuse in the fun-factors from Borderlands...then they could have a real winner on their hands.
For the most part, 2 Dawn Games wants Ravaged to be an over-the-top style shooter that really hones in on the multiplayer portion of the gameplay. A couple of new screenshots were let loose to give gamers an idea of what the art-style and visual aesthetic will be like, and you can check those out below. I'm really digging the sort of washed-out, photographic look...it melds well with the game's post apocalyptic themes.
Ravaged is expected to launch later on this year for Steam. For more information feel free to visit the Official Website.
Image 1 of 4
Your Daily Blend of Entertainment News
Staff Writer at CinemaBlend.