Rise Of The Tomb Raider Could Be Xbox's Uncharted, Microsoft Says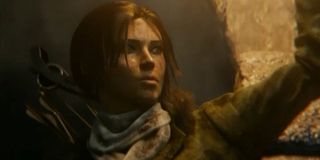 There's a reason why Microsoft wanted Rise of the Tomb Raider to be an Xbox One and Xbox 360 exclusive: so they could compete with the PlayStation-exclusive series Uncharted.
"I'm a big fan of Uncharted and I wish we had an action adventure game of that ilk," Xbox boss Phil Spencer told Eurogamer. "We've started some, and we've looked at them. But we don't have one today of that quality. This is an opportunity."
Rise of the Tomb Raider, Spencer added, fills a niche that their catalog. They wouldn't have made the deal if it didn't.
"When you think about our portfolio, if it was a sci-fi shooter, I probably wouldn't do that! I've got one of those! Or if it's a Gears competitor, or a Forza competitor, there are things I wouldn't go after. But this is one that clearly fit in our portfolio really well. That's definitely part of the analysis. I want to be a good partner. I wouldn't be a good partner to Crystal and Square if I had a game I thought was directly competitive with this in the timeframe, and I didn't."
Microsoft's decision to pursue Rise of the Tomb Raider makes more sense when you keep Uncharted in mind. Rise will launch during the 2015 holiday season, a likely release window for Uncharted 4. An Xbox-exclusive Tomb Raider ensures that Uncharted 4 won't launch unopposed. I suspect there's a lot of overlap between the fan bases of Tomb Raider and Uncharted so this matchup makes their decision between PS4 or Xbox One a bit harder.
In time, Rise could sell some Xbox Ones but for now the announcement seems to led to a backlash against Microsoft. PlayStation and PC gamers were upset because the previous Tomb Raider game was released on their platforms. Their disappointment led them to create a petition demanding that Square Enix break their exclusivity agreement with Microsoft.
Spencer admitted in the Eurogamer interview that they're not permanently depriving PS4 and PC gamers from playing Rise, though. The Xbox exclusivity has a "duration" of unknown length.
"I don't own it. So in the long run, where that franchise goes and everything else, that'll be theirs to drive."
In my hypothetical timeline of the game, I suggested that Rise could hit PS4 and PC a year after Xbox One and Xbox 360. I still think that's a reasonable guess. The delay has to be long enough to make a nontrivial amount of gamers think, "Well, screw it. I'm not waiting that long for the PS4 version. Time to get an Xbox One." Otherwise, the money Microsoft is putting into this partnership would be a waste.
This poll is no longer available.
Staff Writer at CinemaBlend.
Your Daily Blend of Entertainment News
Thank you for signing up to CinemaBlend. You will receive a verification email shortly.
There was a problem. Please refresh the page and try again.