Rock Band AC/DC Pack Has Achievements/Trophies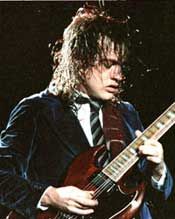 It turns out mastering AC/DC's songs in the standalone AC/DC Rock Band expansion will give you a sense of accomplishment, after all. As hoped, the expansion's 360 version will have Achievements and the PS3 version will have Trophies.
A developer post on the Rock Band forums confirmed that the AC/DC track pack will have unique Achievements, some of which will be specific to songs. Considering this is a standalone version of Rock Band, it's quite likely it will have a full 1000 Gamerscore points (instead of the normal 200 alloted to DLC).
The PS3, Xbox 360, and PS2 versions of AC/DC LIVE: Rock Band Track Pack will be available exclusively at Sam's Club and Wal-Mart on November 2nd. A Wii verison is expected on November 16th. The following eighteen AC/DC songs will be included in the pack:
"Thunderstruck"
"Shoot to Thrill"
"Back in Black"
"Hell Ain't a Bad Place to Be"
"Heatseeker"
"Fire Your Guns"
"Jailbreak"
"The Jack"
"Dirty Deeds Done Dirt Cheap"
"Moneytalks"
"Hells Bells"
"High Voltage"
"Whole Lotta Rosie"
"You Shook Me All Night Long"
"T.N.T."
"Let There Be Rock"
"Highway To Hell"
"For Those About to Rock (We Salute You)"

The PS3, Wii, and 360 versions are priced at $39.88 while the PS2 version will run $29.88.
Staff Writer at CinemaBlend.
Your Daily Blend of Entertainment News
Thank you for signing up to CinemaBlend. You will receive a verification email shortly.
There was a problem. Please refresh the page and try again.