Rumor: Rainbow Six: The Patriots Announcement Soon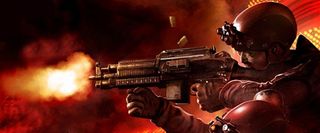 There hasn't been a new Rainbow Six game for consoles since 2008. Ubisoft may fill that void soon enough. The current rumor is that they're about to announce a new game called Rainbow Six: The Patriots.
Fusible recently spotted domain registrations for Rainbow6Patriots.com and RainbowsixPatriots.com by Ubisoft. These registrations were filed on the same day that Ubisoft claimed domains of existing games, like assassinscreedrecollection.com and princeofpersiaclassic.com.
Citing a source involved in the game's marketing, a >NeoGAF user confirmed that Rainbow Six: Patriots is the real title. The user adds that Patriots will be announced in the upcoming issue of Xbox World magazine. The art for the game shows New York in flames, so presumably NYC is the central setting or at least one of them.
The Rainbow Six video games are inspired by the novels by Tom Clancy. "Rainbow" is the name of an international counter-terrorist made up of the best special forces operatives from NATO countries. The game's are a bit more careful than most shooters, relying on tactics and stealth rather than simply reflexes. Players take on the role of one member of Rainbow and give orders to other squadmates throughout missions.
Rainbow Six: Vegas 2, the last major release in the game series, appeared on the Xbox 360, PS3, and PC. I'd expect the same platforms for Patriots.
Your Daily Blend of Entertainment News
Staff Writer at CinemaBlend.