Scalebound Just Got A Major Delay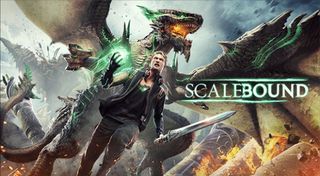 Platinum Games' third-person, action-RPG Scalebound has been delayed...big time. The game is being moved out of its 2016 slot and will be pushed all the way back to 2017 for the Xbox One. The news is likely devastating for a bunch of gamers who were desperately looking forward to the open-world RPG making its debut on Microsoft's home console sometime later this year.
The news comes directly from Platinum Games themselves, where they posted the update over on their official website, where they succinctly lay out the reasons for the game being moved back on the release schedule by an entire year...
I have no qualms about this particular delay. In fact, given how big and expansive the game world is, I'm a little shocked that the news about the delay didn't come sooner. It may have been to lessen the effect of disappointment around the holiday season. Who really wants to be told that one of the big AAA exclusives coming out for their favorite console is getting delayed by an entire year?
However, looking at the game itself, it's to be expected. Players will assume the role of a dragon tamer with the special ability to transform and unleash devastating damage against opponents. Players will have a dragon fighting alongside them throughout their adventures named Thuban. But this isn't just another typical RPG where a pet is called into a fight to unleash an attack and then scurry away like Baldur's Gate or Shadowrun.
Thuban is like the dragon version of Godzilla. This thing is massive, shakes the ground when he walks and can unleash devastating attacks on other giant foes. Players can directly pinpoint where they want the dragon to fire and how they want him to fight. There are also customization options in the game as well, allowing players to change the visual template of Thuban and outfit him with various special attacks.
It's a through-and-through RPG experience. The player-character can also be outfitted with new weapons, new armor and items all designed to help fend themselves off from the larger-than-life creatures that inhabit Scalebound.
The game features physics-based destruction, elemental attacks, and massive open worlds that can be explored. It's an extremely impressive looking game with a lot of creative possibilities. As I mentioned, it's easy to see why a game like this would end up getting delayed by a whole year.
Based on the demo footage and playthroughs that Platinum Games released so far, the game could be the biggest title they ever worked on... or at least that's what it looks like.
Scalebound has a lot of potential and if Microsoft is a-okay with Platinum delaying it by a year then it means they have some faith in the renown studio for delivering on this AAA-sized game. It's definitely bigger than their Bayonetta and Metal Gear Rising outings. We'll see what else they have to share as 2016 presses onward and more promo material surfaces for the Xbox One exclusive.
Your Daily Blend of Entertainment News
Staff Writer at CinemaBlend.