See Rainbow Six Siege Get A Lego Makeover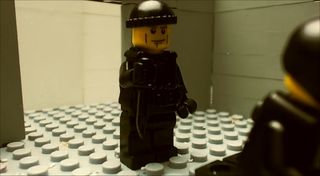 One of the most violent Lego movies you'll see this year will likely be a Lego machinima based on the gory and violent nature of Ubisoft's Rainbow Six Siege. The first-person shooter has found itself a nice niche on the PS4, Xbox One and PC, but it's now starting to gain some extra popularity thanks to a Lego short-film.
PC Gamer spotted the video that was put together by YouTube outlet Blacksheep Pictures. You can check out the two minute video below, featuring some intense back and forth action between the terrorists and the Rainbow squad.
It's one of the few videos from Blacksheep that actually crosses the two minute mark. They're a YouTube outlet known for making very violent and very spastic short-films based on popular gaming properties... using Legos, of course.
They have a criminally miniscule subscriber base, but they pump out some interesting content. The Rainbow Six Siege machinima is one of their more recent endeavors, but they're no strangers to getting gritty in the world of interactive entertainment. In fact, they have some brief teaser videos featuring Dead Rising 3, Battlefield 4, Splinter Cell: Blacklist, and Far Cry 3, all done with Legos.
The videos aren't entirely made with stop motion alone. There are some post-production effects going on with the muzzle fire, explosions and some blood effects. It's all very well put together, though.
Despite the quality of the videos, and the time obviously invested into them, the one thing that surprises me is that they don't seem to have any detailed descriptions of how they put them together and what the process is. The closest thing is the Blacksheep Pictures Facebook page, where they simply notify their community when a new video is coming. The videos don't come often but the Facebook page shows some slight behind-the-scenes screenshots of the editing process and the implementation of various special effects and camera tricks.
Despite lacking any real detail on who the Rainbow Six Siege video was shot and edited, it was a nice effort nonetheless.
As for Rainbow Six Siege... the game came out day and date alongside Just Cause 3 back on December 1st. It's a multiplayer-only first-person shooter for the Xbox One, PS4 and PC. And while there are complaints about the lack of a single-player campaign, the game has managed to find a dedicated audience willing to enjoy it for what it is. The tactical edge and physics-based destruction all help lend itself toward an intense and thrilling experience, not unlike what's depicted in the video above- except the characters, weapons and maps aren't made of Lego pieces.
You can grab a digital or physical copy of Ubisoft's first-person shooter for home consoles or PC right now. There's no telling when a new video is coming from Blacksheep Pictures so you'll just have to keep an eye out on their Facebook page.
Staff Writer at CinemaBlend.
Your Daily Blend of Entertainment News
Thank you for signing up to CinemaBlend. You will receive a verification email shortly.
There was a problem. Please refresh the page and try again.