Sega Attempts To Settle Aliens: Colonial Marines Lawsuit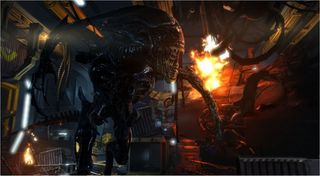 The Aliens: Colonial Marines saga continues. This time things are taking a slightly different turn in a direction no one probably saw coming: Sega is willing to settle the lawsuit for $1.25 million dollars, a fraction of the lawsuit's original claim of $5 million in damages due to false advertising and misleading marketing.
Polygon is reporting that Sega is tentatively looking into settling the lawsuit that spawned over Aliens: Colonial Marines. The motion is described as moving Sega out of the cross-hairs, but Gearbox Software would still have to deal with their own set of problems. According to the article, the $1.25 million will breakdown to cover a number of fees, including $312,500 for attorney fees for the plaintiffs, $200,000 for the administration costs, $2,500 would be paid to the plaintiff and the rest would go to the poor people who actually purchased Aliens: Colonial Marines. In a way, it's almost like getting a refund without having to actually return the product.
As mentioned in the article, there are some stipulations for getting back money from the lawsuit...
This is quite the departure from Sega's previous stance where they had stated that the entire lawsuit was meritless and had no grounds for cause, as it's showing some form of concession from the company compared to where they were just a year ago when the lawsuit first cropped up.
Gearbox Software has tried hard to remove themselves from the current lawsuit, as they've repeatedly stated that they did nothing wrong, even though they were the studio contracted to design Aliens: Colonial Marines and it was their supposed "playable demo" that wowed audiences at E3... a demo that did not represent what the actual game would become.
As noted in the filing...
Harsh.
I at least have to give props to Sega for taking some form of accountability for the incident. The real shame in this case is that Gearbox Software refuses to take any responsibility for the game, the demo, the claims they made during the E3 demonstration and the promotion of the game leading up to its rocky release.
The main issue isn't so much that Aliens: Colonial Marines didn't live up to the E3 demo, but that the developers stuck by their claims all the way up to release without at least acknowledging that gamers wouldn't be getting the game that they thought they had been promised. Worse yet, is the way the entire thing has been dismissed as a non-issue by the studio heads at Gearbox.
Your Daily Blend of Entertainment News
Staff Writer at CinemaBlend.