Shadows Of The Damned Mini-Game And Demon Blasting Screenshots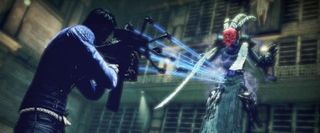 It's not all serious business in Shadows of the Damned, Garcia will take a little time to earn some goodies by blasting down zombies like bowling pins, or partaking in a little side-scrolling adventure. Of course, the screenshots also depict Garcia doing what any demon hunter does best: blasting the crap out of demons.
Grass Hopper Manufacture has designed the game in a very similar vein to Resident Evil, but considering that Suda51 is helping out with the project as well, it has a lot of the same dark humor and sexual innuendo that was found in No More Heroes.
You can check out the new screenshots for the game below and remember to look for Shadows of the Damned for the PS3 and Xbox 360 to hit retailers on June 21st. For more info feel free to visit the Official Webite.
Image 1 of 8