Shin Megami Tensei: Devil Summoner: Soul Hacker Limited Edition Comes With Free Soundtrack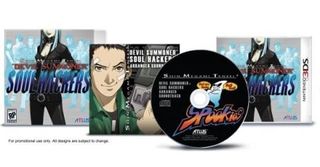 Shin Megami Tensei: Devil Summoner: Soul Hacker is set to hit the U.S. market on April 16, and those who pre-order the 3DS game or grab it off of a store shelf nice and early will have access to a limited edition boxed set, including a six-song soundtrack, at no additional charge.
A remake of a chapter from the Shin Megami Tensei franchise that never made it stateside when it was originally released, Devil Summoner: Soul Hacker now holds the coveted title of "longest freaking name to ever grace a video game."
Since Japanese fans have already played the original game, they also got to vote on which songs they enjoyed most from the original soundtrack. Those tunes have been newly arranged and stamped onto a CD that will be included in all limited edition copies of Soul Hacker once it's released in the states.
Along with details on that CD-infused limited edition, Atlus today unveiled the final artwork for the U.S. release of Soul Hacker, which can be seen in the image above.
As for the game itself, Soul Hacker is a "first-person dungeon-crawling RPG experience set in a future where technology and otherworldly forces meet in a macabre fusion of cyberpunk futurism and gothic horror," according to a statement from the publisher. "Soul Hacker tells of a city held up as a beacon of humanity's triumph of technology, but with an infernal secret. In this world-be utopia, a group of hackers takes on a centuries-old mystic society, and a battle for control over humanity's fate is about to begin."
So, yeah, pretty much par for the course for a Shin Megami Tensei game.
Players will explore the world in first person and have the option to either battle the demons they come across, or try to negotiate with them to get them to join their cause as an ally. The 3DS version also includes some new upgrades, including a remastered soundtrack, 30 new demons to battle, a new intro movie, quicker load times, an auto-mapping function and, after you beat the game, a brand new dungeon to explore.
Look for all of that when Devil Summoner arrives on April 16. Just remember that you might want to go ahead and pre-order a copy if you're hoping to snag one of the limited editions featuring a free soundtrack.
Your Daily Blend of Entertainment News
Staff Writer for CinemaBlend.