The Sims 4 Is Getting A Romantic DLC Pack For Valentine's Day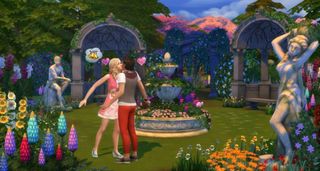 If you were lucky enough, you might remember the very first Sims game when it released in 2000 for PC. Compared to today's Sims games, it was rough but genius in its design and gameplay—so much that people couldn't put it down. But that was 16 years ago. To celebrate The Sims' Sweet Sixteen today, EA has announced a new romantic-themed expansion pack just in time for Valentine's Day.
In the past, The Sims have been known to release holiday-themed content such as Christmas packs, around the holidays, so it's not surprising that we'll be getting a romantic themed pack for Valentine's Day. Titled Romantic Gardens Stuff, the new pack is filled with all things love and romance for celebrating your Sims' Valentine's Day outside. You can see a trailer for the pack below.
Obviously as seen in the trailer, the pack will include new romantic objects like colorful flowers and statues, new outfits to dress properly for the occasion and new gameplay. We can safely assume that the new gameplay will include things like making wishes in the Whispering Wishing Well where Sims can get over 50 options for wishes, but just like having a baby in-game, making a wish doesn't always work.
The Fountain of Gluteus Maximus will be one of the main objects in the game and will offer an option to add soap to make bubbles in the water. And Sims who really want to get the romance cranking have the option to be serenaded in the Lost Gardens Of Healing.
I remember back when The Sims had janky Windows graphics and only had gameplay centered around home living, social interactions and getting generic jobs. And to see The Sims now with magical wishing wells, international vacations to Europe and complex in-game relationships paints the long journey The Sims has taken over the last 16 years.
According to Neurogadget, there has been a rumor going around about The Sims 5 not being released before 2019, if it will even be released at all. On a forum, Sims 4 producer Grant Rodiek has said that the chances of The Sims 5 releasing aren't favorable, and its fate relies solely on The Sims 4's success. In the age of VR, it feels like The Sims has fallen on the wayside and left behind in a time that welcomed simulation games like Sim City. But 2016 has seen some major changes in the video game industry. Now if The Sims were to add VR compatibility, could you imagine the strange experience it would offer? I mean, just think about the process of making a baby...it would never work. Honestly (and sadly), I think The Sims is on its way out. We've had a good run and an entertaining 16 years.
The Romantic Garden Stuff pack will be releasing on February 9 separate from The Sims 4. There's no official price yet, but you could probably expect something around $10.
Your Daily Blend of Entertainment News